Pepperdine University Introduces New Hub for Spiritual Life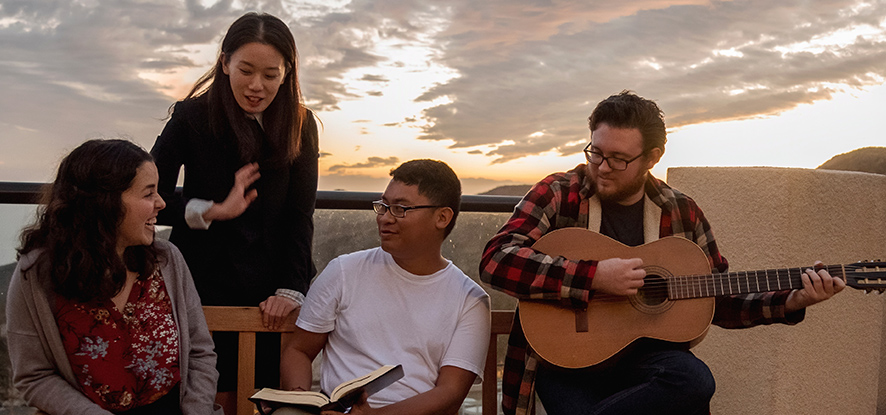 On May 3, 2021, Pepperdine University president Jim Gash (JD '93) announced the launch of the Hub for Spiritual Life at Pepperdine—a new initiative to reimagine and enhance spiritual life at Pepperdine. Central to the hub's mission and programming is the emphasis on developing students as leaders throughout their faith journeys with the community support of fellow students along with faculty and staff spiritual mentors.
"Jesus modeled an open-arms approach to life and faith," Gash shared in his message to the community announcing the change. The new hub, Gash explained, will seek to embody this approach in every spiritual life experience at Pepperdine.
The Hub for Spiritual Life will be led by University chaplain Sara Barton, who will transition to a new role of associate vice president for spiritual life, alongside associate chaplains Lauren Begert (MA '15) and Rachel Collins. Barton, Begert, and Collins have already begun collaborating with the University community to continue developing and executing the hub's vision.
"On our team, we recognize and celebrate that we do not provide the whole spiritual experience but are part of a greater whole," Barton says. "Collaboration is my leadership style, a style that aims to bring people out of silos to work together, and that's inherent in the language of a hub."
The team's new approach will connect students to every spiritual life opportunity whether in their residence halls, on athletic teams, or while studying abroad. With this holistic focus, collaboration with University partners is key to incorporating spiritual growth at each level of students' undergraduate careers.
"I am looking forward to the community continuing to partner with us," shares Begert, "especially as we seek to cultivate a thriving spiritual life at Pepperdine, together."
One of the first changes resulting from the new initiative includes the restructuring of Seaver College's Convocation Series, which will henceforth be known as Seaver 200. The program creates gatherings for first- and second-year undergraduate students to explore faith and feel welcomed into the community and also allows third- and fourth-year students to take an active, autonomous role in their spiritual life through optional involvement and spiritual leadership opportunities.
"We believe it is important to foster spaces of connection on our campus—small groups, Bible studies, and one-on-one spiritual mentoring," says Collins. "We are excited to help students connect with faith and spiritual programs as they become leaders in their communities."