Pepperdine University Launches New Safety Programs
Earlier this year, Pepperdine unveiled its Step Up! safety campaign, to encourage the campus community to "step up" and care for the safety and well-being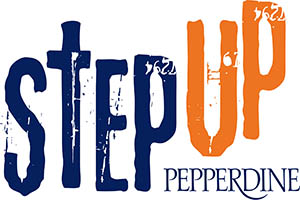 of one another. Through trainings, literature, and digital signage, students, faculty, and staff are being educated in how to identify and obtain help for someone on campus struggling with mental health issues, suicidal thinking, substance abuse, unhealthy relationships, bullying, threats, hazing or other concerning situations.
As part of the Step Up! campaign, The University's Public Safety, and the Office of Insurance and Risk, released the new "LiveSafe." The "LiveSafe" app is designed to improve communication between University community members and Public Safety, and enhances emergency response in distress situations. The app is free and available to University community members including students, faculty, staff, parents, visitors, and friends.
LiveSafe allows users to submit information and chat with Public Safety in both emergency and non-emergency situations, and look out for friends and loved ones by watching them arrive at their destination safely with the SafeWalk feature. Medical or security escorts on the Malibu campus, or a ride back to campus are available by calling Public Safety using the SafeRide feature. Users may submit tips anonymously and attach photos, video or audio clips. When using LiveSafe to call 911 or contact Public Safety in an emergency, the app can track location, allowing first responders to identify where help is needed. The app makes critical information easily accessible including emergency response information and contact information for key University services, anytime, anywhere—even internationally.
Find the app on Google Play or the Apple App Store.