Pepperdine University Launches Pepperdine 2030: Ascend Together Strategic Plan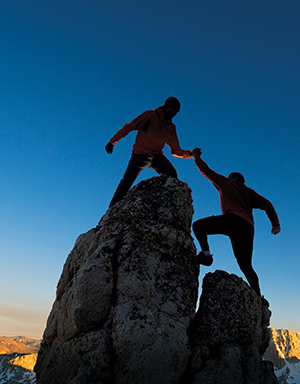 Following a two-year planning process that invited the participation of every segment of the University community, Pepperdine has launched its strategic plan, Pepperdine 2030: Ascend Together, which will inform the next decade of Pepperdine's story as the University continues its pursuit of faith and truth and commitment to students as the heart of the educational enterprise. Facilitated by the Strategic Planning Task Force, the plan features strategic guidance approved and adopted by the Board of Regents, the University's governing body and chief policy board, a presidential vision statement from Jim Gash, and an executive summary providing a roadmap to guide the University's path ahead.
"The Pepperdine 2030 Strategic Plan is the result of a sustained community effort and the culmination of more than two years of listening, strategizing, and collaborating," says Tim Perrin, Pepperdine's senior vice president of strategic implementation. "Hundreds of community members played a role in the development of the plan, including the Board of Regents, students, faculty, staff, administration, alumni, parents, and donors. In particular, I owe a special debt of gratitude to the Strategic Planning Task Force for their wholehearted investment of time, energy, and wisdom."
The plan particularly emphasizes a commitment to reinforce Pepperdine's culture in the key areas of scholarship, spiritual life, service, athletics, and the arts and harnessing the values of courage and integrity to strengthen community belonging. Throughout the next decade, the University will strive to achieve six strategic objectives, including goals to enhance academic excellence, diversity and belonging, and Pepperdine's presence in the local community and across the globe.
"My sincere hope," shares Perrin, "is that the 2030 strategic plan both challenges and inspires, calling us upward to ever greater levels of distinction and excellence while remaining anchored in Pepperdine's core identity and values."
To explore the elements of the Pepperdine 2030 Strategic Plan, visit the Pepperdine 2030: Ascend Together website.