Pepperdine University Libraries Celebrates Fourth Annual Library Research Award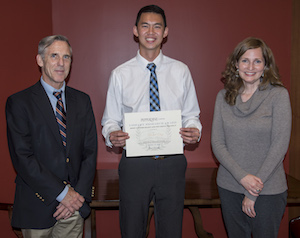 The Pepperdine University Libraries hosted the 2017 Library Research Award at Thornton Administrative Center at the Malibu campus on April 18.
Below are this year's winners:
Lionel Ong
Best Undergraduate Student Project
Project: "Measuring Support for Multiethnic Parties in Zambia"
Ong is a political science and economics major at Seaver College. His research interests include ethnic politics, governance in developing countries, foreign aid, agricultural economics, and behavioral science in public policy. His future plans involve development research and consulting, political consulting, and government advising in developing countries.
Colleen Brazill-Murray
Honorable Mention
Project: "Professional Development: Steering, Badges, and a Hub"
Brazill-Murray is pursuing an education doctorate in learning technologies at the Graduate School of Education and Psychology. Her research interests include adolescent development and learning technologies. She plans to move from teaching into administration, and to write a book that synthesizes learning science and mental health research. Her intention is to shift thinking about teaching, learning, and our approach to adolescent mental health.
Now in its fourth year, the Library Research Award demonstrates the deep and varied ways Pepperdine University students make use of library resources. This award is given for the best scholarly or creative projects submitted by students of any of the five Pepperdine schools that utilize library resources, collections, and services in order to recognize the importance of effective library research in academics.