Pepperdine University Maintains Top 50 U.S. News & World Report Ranking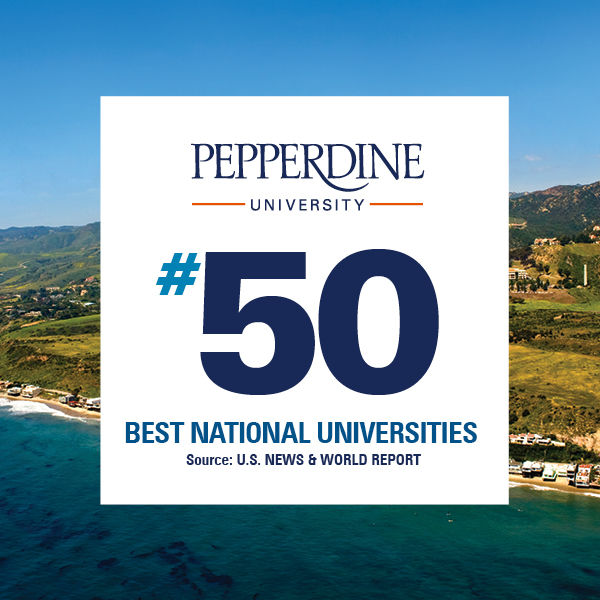 Pepperdine University has been recognized as one of the top 50 universities in the nation by the U.S. News & World Report Best Colleges rankings. In the newly released numbers for 2020, Pepperdine is ranked 50 out of 399 national institutions of higher learning, maintaining its position as one of America's "Best National Universities."
According to the publication, schools are grouped into 10 different ranking categories based on their academic missions. Within each category, the sum of weighted, normalized values across 15 indicators of academic quality—including first-year student retention, graduation rates, and faculty resources—determine each school's overall score, and by extension its overall rank.
In the inaugural list of "2020 Academic Programs to Look For," Pepperdine ranked number 11 in the "Study Abroad" category, which recognizes institutions that, according to the publication, offer programs that "involve substantial academic work abroad for credit."
Placing at number 24, Pepperdine was once again named as one of America's "Best Colleges for Veterans." Pepperdine is an active participant in the Yellow Ribbon GI Education Enhancement Program, which enables 80 percent of the University's current student veterans to attend tuition-free.
In an assessment of colleges and universities that offer students the best value, Pepperdine placed number 43 in the nation, a ranking that, according to the publication, takes into account a school's academic quality and the 2018–2019 net cost of attendance for a student who received the average level of need-based financial aid."
Pepperdine's Seaver College ranked number 50 for maintaining one of the country's "Best Undergraduate Business Programs," a designation that is determined solely by surveys of business school deans and senior faculty.
For additional information about the 2020 rankings, visit the U.S. News & World Report website.