Pepperdine University Mourns the Passing of President Emeritus William S. Banowsky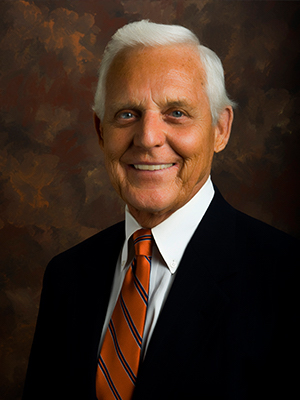 William Slater Banowsky (MA '94), the fourth president and chief executive officer of Pepperdine University who served from 1971 to 1978, passed away on April 28, 2019. He was 83.
"Few can appreciate the impact of Dr. Banowsky's leadership and his lasting impact on Pepperdine today," said Pepperdine president Andrew K. Benton. "He was a visionary determined to assure a bright future for the University, often willing the institution forward with his considerable talents and very often against the odds. He must always be regarded as one of the central heroes of our story."
Born on March 4, 1936, in Abilene, Texas, Banowsky and his three siblings grew up around the time that businessman George Pepperdine was starting his college in Los Angeles. Banowsky's father, a schoolteacher and administrator for 31 years, noted his son's early propensity for leadership, a hint of the man who in 1971 would become one of the youngest college presidents in America. A natural athlete, Banowsky earned a baseball scholarship to David Lipscomb College (now Lipscomb University) in Nashville, Tennessee, where he majored in history and minored in speech. It was also where he met his wife, Gay Barnes, a professional artist who would become an influential figure in her own right as the first lady of Pepperdine.
At ease in church pulpits as a young man, Banowsky began his preaching career in 1958 ministering to Nashville congregations of the Church of Christ while completing his bachelor's degree. The following year, he and his family headed for Albuquerque and the University of New Mexico, where Banowsky would earn his master's degree in speech communication in a single year while preaching for the Netherwood Park Church of Christ.
M. Norvel Young, president of Pepperdine College at the time, persuaded Banowsky to join the institution in 1959 as associate dean of students. He divided his seemingly inexhaustible energies between duties at Pepperdine, a doctoral program at the University of Southern California, and a Sunday preaching commitment at South Gate Church of Christ. By 1963 Banowsky had been promoted to dean of students at Pepperdine and completed his doctorate in speech communication.
Having been fully immersed in academia for eight years, Banowsky left Pepperdine to accept an influential ministry at the 2,000-member Broadway Church of Christ in Lubbock, Texas. His five-year tenure at Broadway Church—where Young had served as minister for 13 years—resulted in significant growth within the church membership. He supplemented his ministry with work in education, serving nearby Lubbock Christian College as a professor of speech communication and as a member of its board of trustees.
In California, the 1,500-student Pepperdine College was at a crossroads. Situated on a 34-acre site with neither space nor funds to expand, and faced with increasing competition for students, President Young recognized that the college desperately needed an infusion of new energy. Young had followed Banowsky's accomplishments at the Broadway Church and invited him to return to Pepperdine.
"In 1968 my father chose the dynamic young Bill Banowsky to join Pepperdine's leadership team as executive vice president," said Sara Young Jackson ('74), senior vice chancellor and chancellor-designate of Pepperdine University. "Bill brought his natural charisma, sharp intellect, and unparalleled ability to inspire and motivate Pepperdine friends to become major supporters. Bill made all the difference in making the 'Malibu Miracle' possible and worked closely with my father to make the dream of the Malibu campus a reality. Their partnership was truly magical, and we believe God used it to answer our prayers."
With Banowsky's return, the dreams of Young and many others began to take shape in an ambitious master plan that called for the establishment of a new campus and the addition of professional and graduate programs. The pioneer Adamson-Rindge family had made its gift of 138 acres of prime Malibu real estate. Now, the determined team of Young and Banowsky was prepared to find the funding to construct a new campus at a juncture in history when many colleges were closing their doors.
Banowsky became chancellor in 1969 and turned his attention to raising money for the Malibu development, a task for which he was virtually untested save his work on behalf of special projects. He exceeded expectations, though, and ground was broken on the windy bluffs of Malibu in 1970. A year later, amid the flurry of construction in preparing for the 1972 campus opening, Pepperdine College was elevated to university status and Banowsky was named its fourth president. The 34-year-old chief executive was firmly on the rise when Time magazine in 1974 named Banowsky one of America's 200 leaders of the future.
"William Slater Banowsky belongs to a small group of leaders, without whom, in each case, there would be no Pepperdine University today," said James R. Wilburn, Dean Emeritus of the School of Public Policy and Graziadio Business School. "His special relationship to his predecessor was historic, almost biblical, in its capacity to cooperate and compensate with the stupendous talents of each. Banowsky's leadership in Los Angeles, in California, at the national level, in corporate life, and political influence, as well as in higher education, lifted Pepperdine to an entirely new plateau of visibility and respect."
Throughout the course of his meteoric career, Banowsky wrote and published four books, including The Mirror of a Movement, based on the Abilene Christian College Bible lectures. He also wrote It's a Playboy World, which grew out of "Christianism and Hedonism: A Clash of Philosophies," a 1967 televised debate between Banowsky and Anson Mount, then religion editor of Playboy magazine. His third book, The Now Generation, was published in 1969. In 2010 Banowsky published The Malibu Miracle: A Memoir, which highlights the most notable challenges and victories that resulted in Pepperdine's move from south Los Angeles to Malibu and the key players who were instrumental in the formation of the University as we know it today.
During the exciting decade from 1968 to 1978, Banowsky led the development of Pepperdine College from a small, inner-city school to a major university on the rim of the Pacific, elevating it from economic uncertainty to unqualified solvency with assets of $125 million and a student body approaching 8,000. Campus construction continued at a steady pace, new programs were added, and the School of Law in Orange County moved into its spectacular Malibu campus facility. Moreover, he built a solid base of donor support, and it was his ability to promote the promising future of the University that led to the "miracle at Malibu." Banowsky also expanded Pepperdine's Board of Regents from 21 to 40 members, adding influential business leaders to the governing body, and was revered as a Pepperdine Life Regent.
The Banowsky era at Pepperdine came to a close in August 1978 with news that he would take the helm at the University of Oklahoma. The following year Banowsky was recognized with an honorary doctor of laws degree from Seaver College. In 1991 Pepperdine University honored him by naming the road stretching across the south side of the Malibu campus Banowsky Boulevard.
Banowsky is survived by his wife, Gay; sons David, William, Jr., Baxter, and Britton; and several grandchildren.