Pepperdine University Purchases Commercial Real Estate in Malibu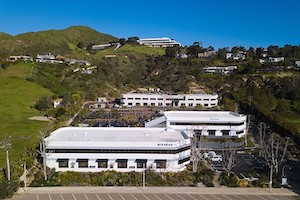 On April 24, 2020, Pepperdine University acquired the Miramar office complex in Malibu in its first-ever commercial real estate purchase. Jeff Pippin (MBA '83), senior vice president for investments and chief investment officer at Pepperdine, spearheaded the transaction made through the Pepperdine Endowment Fund. Jennifer J. Knauff-Sanchez will serve as the complex's on-site property manager. She is a real estate analyst at one of the University's management and holding entities, Wave Enterprises, and has overseen the University's on-campus faculty housing over the last four years.
"Real estate in an endowment portfolio serves as a hedge against monetary inflation because as inflation occurs, rent can be raised at specific intervals," explained Pippin about the income-producing investment for its endowment, adding that the University purchased Miramar at a significant discount to its market value, thus resulting in favorable tax treatment to the seller.
Prior to the purchase, the Pepperdine Real Estate Operations group temporarily leased space while work was being performed on their campus office space. "While other transactions of this nature are very possible in the future," Pippin said, "for now we have fulfilled our real estate allocation for the endowment."
Previously owned by Miramar Property Investment Company headquartered in Santa Barbara, the complex features a two-story building and 160 parking spaces located on nearly three acres of land. Though presently hindered by the coronavirus pandemic, the University plans to rename the investment property from "Miramar" to "The Waves at Malibu" before the end of the year.