Pepperdine University Ranked 46 in U.S. News Best Colleges Rankings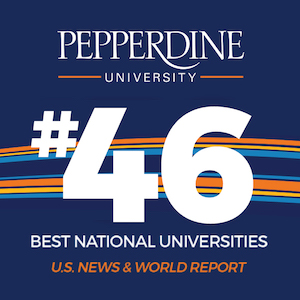 Pepperdine University continues to climb the U.S. News & World Report Best Colleges rankings as one of America's "Best National Universities." In the newly released numbers for 2018, Pepperdine is ranked 46 out of 310 national institutions of higher learning, advancing four spots higher than its 2017 ranking of number 50.
According to the publication, "The National Universities category consists of the 310 institutions—189 public, 114 private, and seven for-profit—based on the categories that the Carnegie Classification of Institutions of Higher Education established."
Advancing from number 48 to number 45, Pepperdine's Seaver College was recognized as maintaining one of the country's "Best Undergraduate Business Programs," a ranking that is determined solely by surveys of business school deans and senior faculty.
Pepperdine also advanced a full 11 spots, from number 29 to number 18, as one of America's "Best Colleges for Veterans." Pepperdine is an active participant in the Yellow Ribbon GI Education Enhancement Program, which enables 72 percent of the University's current student veterans to attend tuition free.
For the second consecutive year, Pepperdine's International Programs—which provides students with life-changing experiences designed for intellectual, social, personal, and spiritual transformation—was included on the publication's list of "Best Programs to Look For."
For additional information about the 2018 rankings, visit the U.S. News & World Report website.