Pepperdine University Receives $10 Million Grant from W. M. Keck Foundation for STEM Education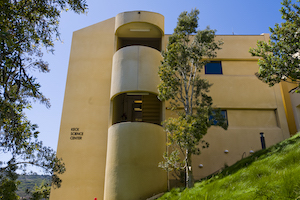 Pepperdine University has been awarded a $10 million grant from the W. M. Keck Foundation to establish the Keck Data Science Initiative. The initiative will strengthen teaching methods and access to research in the fields of science, technology, engineering, and mathematics (STEM) by broadening the curriculum and advancing instruction and research in key areas of science that will amply equip students for new scientific and industry demands.
"This funding will provide students with the opportunity to integrate data science into their particular research and academic interests, ultimately extending beyond the Natural Science Division and into other diverse disciplines at Seaver College," said Jay Brewster, Pepperdine University provost and professor of biology in the Natural Science Division. "We are thrilled to have been awarded this funding and are deeply grateful for the continued partnership between the Keck Foundation and Pepperdine University."
As data science and analytics careers continue to increase by 10 to 15 percent each year, and as technology rapidly evolves and data becomes more complex, more scientific research methods are required for students to keep pace with their peers—a challenge Pepperdine recognizes and proactively seeks to address. Through the Keck Data Science Initiative, Pepperdine will train the next generation of STEM scholars and data scientists by introducing a Bachelor of Data Science degree program, engaging students with data science leaders within the broader global scientific community, partnering students with science faculty and guest scholars, and applying data science to ethically address relevant and critical questions in contemporary society.
The grant will fund academic and scholarly initiatives around the emerging field of data science, which involves both the development and utilization of tools to evaluate massive data sets. The discipline is critical in scientific disciplines such as bioinformatics, mathematical modeling, machine learning, biophysics, and artificial intelligence. Funding will also provide support for undergraduate research fellowships through the Keck Student Scholars program and for the purchase of critical equipment, such as computed tomography and raman spectroscopy systems. The Keck Science Center—funded originally by a Keck Foundation grant almost 41 years ago and last upgraded 25 years ago—and the Rockwell Academic Center will each have several classrooms renovated and modernized over the course of one year beginning in summer 2022.
Funding will also allow the University to expand opportunities for students and faculty to interact with the global scientific community. "In partnership with Pepperdine's Vevey Program, our goal is to allow our sophomore students in Switzerland to establish strong intercultural competence as they engage with scholars and scientists from around the world, understand scientific elements from diverse perspectives and within different contexts, and deepen their learning beyond what is presently available in the United States," said Michael Feltner, dean of Seaver College and professor of sports medicine.
"The W. M. Keck Foundation has a long history of supporting projects that promote inventive approaches to instruction and effective involvement of students in research," said Sheila King, executive director of corporate and foundation relations at Pepperdine University. "We are honored to be a recipient of this transforming award."
Based in Los Angeles, the W. M. Keck Foundation was established in 1954 by the late W. M. Keck, founder of the Superior Oil Company. The foundation's grant making is focused primarily on pioneering efforts in the areas of medical research, science, and engineering. The foundation also supports undergraduate education and maintains a Southern California Grant Program that provides support for the Los Angeles community, with a special emphasis on children and youth.