Pepperdine Veterans Council Promotes Community of Belonging for Student Veterans and Military Families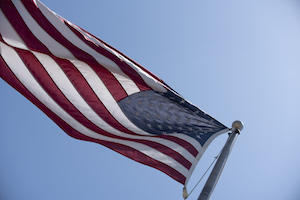 In a University-wide effort to provide an active voice for student veterans and military-connected students—including military family members and Reserve Officer Training Corps cadets—a group of student veterans representing all five Pepperdine schools have launched the Pepperdine Veterans (PeppVet) Council, a leadership committee launched in fall 2020 that focuses on developing new initiatives to help ensure these nontraditional students feel valued, included, and supported throughout their academic journey.
"Our peers can be our greatest resource when it comes to navigating life post-separation the military. When we were on active duty, our fellow service members were our family. Once we separate, sadly, that goes away," shares Angela Ziccardi, the council's lead student veteran representing the Graduate School of Education and Psychology. "The council at Pepperdine has been my new veteran family, and for that, I am eternally grateful. We can be there for each other to share ideas and to offer school and career advice."
Overseen by Eric Leshinsky, director of student veteran affairs who served in the Air Force for nearly 30 years, the PeppVet Council aims to become a champion for veteran issues and to serve as valuable points of contact, advocates, and ambassadors for their fellow veterans and military-connected students. The council shares member concerns directly with University administration, including the 24-member Pepperdine Committee on Student Veterans composed of students, faculty, and staff.
John Powers, an MBA student who represents the Graziadio Business School on the council, explains that one of the most difficult obstacles that transitioning service members encounter is finding a new sense of purpose after leaving active duty. Many struggle with figuring out what they want to do with their future, and returning to school allows them time to refocus and strategize a new way forward—an experience made more comfortable and reassuring in a group of others in the same position.
"Before this council, I had never met a veteran from Seaver College, the Caruso School of Law School, or the School of Public Policy," says Powers. "There is a huge opportunity to give veterans a great network within our own beautiful campus, and I believe Eric is the right person to connect us all together to build long-lasting relationships for the future."
According to Ziccardi, the most common issues that veteran students experience are understanding the scope of education benefits available through the United States Department of Veterans Affairs and choosing the next best step after rejoining civilian life. "I chose education in order to pivot into a new career path," she says. "But no matter what a veteran decides to do post-military, they will experience great changes that can be both challenging and rewarding."
Council members are also familiar with the unique challenges faced by those with family members in the Armed Forces, particularly spouses, parents, and children. While their loved ones are on active duty, they often have limited or no access to their active duty family members who are deployed, and are left in charge of all home-based decisions and responsibilities.
"Pepperdine is deeply committed to providing quality services and resources to our diverse military-connected community," explains Leshinsky. "This includes finding new ways to reach our veteran students so they can connect, engage, and get involved in making positive change in their school and local community. The PeppVet Council provides student veterans with a new platform to discuss, develop, and implement ideas to build fellowship and improve the lives of our military-connected students."