Pepperdine Wins 2021 NCAA Division I Men's Golf Championship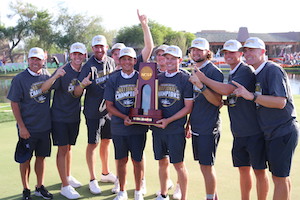 For the second time in program history, the Pepperdine University men's golf team won the National Collegiate Athletic Association (NCAA) national championship following a 3–2 victory over the University of Oklahoma on June 2, 2021. The Waves earned their 2021 trophy after playing a seventh round of competitive golf in six days at Grayhawk Golf Club in Scottsdale, Arizona. Prior to the onset of the coronavirus pandemic in spring 2020, Pepperdine and the University of Oklahoma were the top-two ranked teams in the United States.
"I would have never thought this far coming into college that I would ever be called a national champion," said senior Joey Vrzich. "I can't believe how many Pepperdine fans came to watch. To have my dad here . . . I don't even have a word for it. It makes me tear up every time."
Teammates Joe Highsmith and William Mouw won the first two points, while fifth-year senior Clay Feagler secured the victory on the 18th green amidst a large crowd of Pepperdine fans. Feagler and Highsmith won all three of their match-play rounds at the NCAA Championships.
"It was surreal to come down to the 18th hole and basically have the last point on my shoulders," said Feagler. "It was nerve-racking but it was exciting. I didn't think I was going to be the final point here. It was kind of crazy."
This victory is the men's golf program's first national title since 1997. This year the Waves were competing at the NCAA finals for the 11th time in program history and for the third time in the last four tournaments. This win, which featured Pepperdine's first-ever appearance in NCAA Championships match play, marks the 10th NCAA Division I team title in Pepperdine Athletics history and the first since men's tennis in 2006.
"When I played at Pepperdine, I always felt like we could be the best team in the country," said Michael Beard ('02), head coach of the Pepperdine men's golf team. "To be able to come back as coach, I still felt that way. Everyone that has worked with us and every player that we've had come through believes in that as well. I'm just so proud of these guys."
For more information, visit the Pepperdine Athletics website.