Pepperdine and Yeshiva Presidents Discuss Faith in Education, Anti-Semitism, and Their Own Stories at President's Speaker Series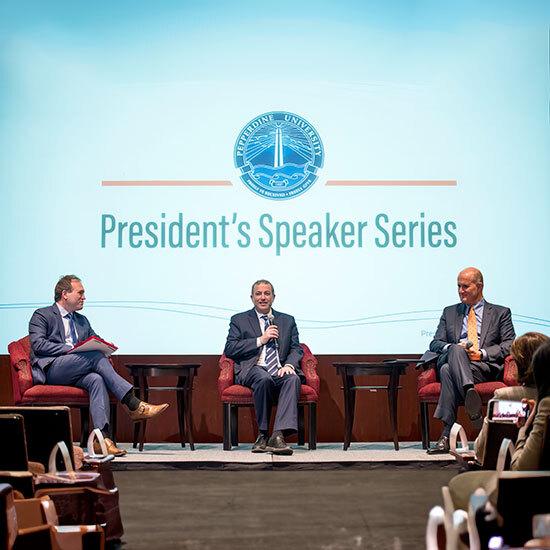 On Thursday, October 26, 2023, Rabbi Ari Berman, the fifth president of Yeshiva University, discussed "Challenges and Opportunities of Faith-Based Higher Education Institutions" at the President's Speaker Series event held in Elkins Auditorium on the Malibu campus. A distinguished leader in the Jewish community, Berman, in discussion with president Jim Gash (JD '93), addressed today's pressing topics in higher education, including the differences between secular and faith-based universities, the benefits of attending a faith-based school, and the recent global events impacting the Jewish community worldwide.
Johnnie Moore, president of JDA Worldwide and president of the Congress of Christian Leaders, moderated the event and opened the conversation by addressing recent events in Israel that commenced with a terrorist attack by Hamas. In Jerusalem at the time of the attacks, Berman shared that he and his family were at a synagogue and took shelter as Hamas members entered Israel. He then received news that his son, a reservist in a combat unit in Israel, was almost immediately called to join the Israeli war effort.
"I walked home from synagogue with my son," Berman recalled. "We're sabbath observers, so we don't carry any electronics with us. We met a friend who said to my son, 'You should really go get your phone.' My son went back to the apartment, he got his phone, and we found out that he was called up to duty. He got his clothes, and then I sent my son off to war. I don't wish that experience on anyone."
Berman continued, "The feeling is of both deep concern of what is presently happening right now, plus the enormous pain—the enormous grief—of living through the greatest atrocity that has happened to the Jewish people since the Holocaust. It certainly weighs heavily upon us."
President Gash offered his deepest condolences and prayers. "The fact that you would be willing to come here and be with us during this time is not just admirable. It's humbling."
President Gash continued, "What happened on October 7 was a clear, unequivocal, atrocious violation of all principles, of all people." President Gash also affirmed the University's longstanding Statement Against Hate which expresses Pepperdine's values in the context of global atrocities that violate human rights, human dignity, and the eternal value of every life.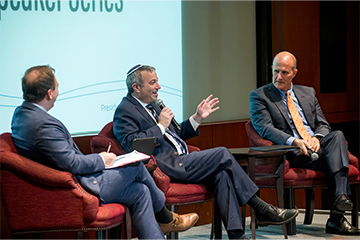 President Gash praised Rabbi Berman's statement of solidarity with the people of Israel. "Rabbi Berman circulated among a number of universities' presidents a statement that he wrote that clearly and objectively analyzed what happened and his condemnation of Hamas for what they did," said President Gash. "The clear statement of standing with Israel and standing with the Palestinians, who are under the cruel rule of Hamas, and standing with people of goodwill and moral character, was unequivocal. And if I was going to be writing a statement, that's the kind of statement I would have written."
President Gash also addressed the wider conflict. "There is so much political analysis about what happened before and what's going to happen since," he said. "But we mourn every life that was lost on that day, and we mourn every life—whether it's a Jewish life, a Palestinian life, a Christian life, a Muslim life—we mourn every life that is lost in the response to that as well."
Following a discussion of the Israel-Hamas conflict, Moore brought Berman and President Gash to the topic of the evening by exploring their own backgrounds in faith-based higher education. Both hailing from families that attended the universities they eventually attended, Berman and President Gash shared that they wished to pursue an academic experience that aligned with their faith values. "With the latest in academic rigor, expertise, and knowledge—for our Jewish and non-Jewish students at our undergraduate and graduate schools—this is an education that prepares them to be people of impact and make a difference in their communities and our society," says Berman.
As Berman and President Gash continued to discuss the key differences between faith-based and secular education, they both agreed that a faith-focused environment builds a foundation that enables a life of productivity and creativity while attracting community-minded students and educators.
"We are an excellent, elite academic institution set on an immovable faith foundation," said President Gash. "Our roots go deep in faith, and that matters to us greatly. You cannot become a tenured or tenure-track faculty member at Pepperdine without being an active member of a community of faith. You don't have to be a Christian. We have several faculty members who aren't Christian, but they are an active member of a community of faith, and they make us better as a Christian institution."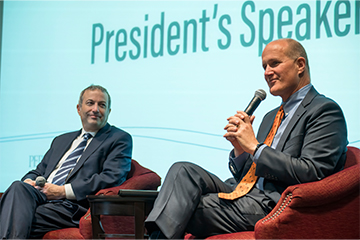 They also agreed that the affordability of private institutions such as Yeshiva and Pepperdine can be challenging and acknowledged that funding scholarship opportunities for students is a key priority. They emphasized their commitment to education in small class settings and acknowledged that the cost savings is not worth losing the teacher-student connection critical to students' academic success and experience.
"Affordability is tough, because the way we do education is expensive," shared President Gash. "However, the way we educate and conduct our classrooms is because we care. Every single student is of infinite dignity and is a child of God and deserves our undivided attention. And so there is a disadvantage there of doing higher education in the way that we value students—the way [schools like] Yeshiva and Pepperdine do."
As the discussion concluded, Berman raised the topic of light, Pepperdine's annual theme this year, which has influenced campus life and initiatives around the University. "I have this great medallion about lights, and then I saw it all over this campus," said Berman. "This is the image that I've been thinking about these past two weeks—inspired by Martin Luther King—that only light drives out darkness and only love drives out hate."
Before closing the event, President Gash thanked Berman for discussing his background in and perspectives on faith-based higher education and offered prayers for hurting communities around the world. "You train young men and women to be leaders, to glorify God's name, and we share that in common," said President Gash. "Pepperdine is now a better institution for having you as a dear friend."
Watch the full-length broadcast of the President's Speaker Series featuring Rabbi Ari Berman and register to attend an upcoming event on the President's Speaker Series website.