Pepperdine's Caruso School of Law Hosts Special Events Throughout Mental Health Awareness Week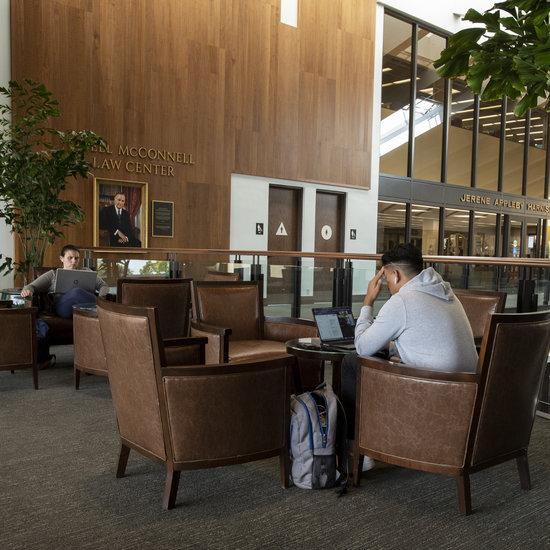 From Monday, October 9, to Friday, October 13, 2023, Pepperdine's Caruso School of Law invites students to take part in Mental Health Awareness Week, an annual event that features daily activities designed to help raise awareness of the national mental health crisis, particularly focusing on student mental health. From providing therapy dogs that provide emotional support to stressed students to sharing important student support resources available on campus, the goal of the week-long event is to alleviate the stigma behind mental health struggles and provide a safe place for students to seek help when they need it.
According to Hannah Neighbors, Caruso School of Law student life and advocacy coordinator, "Today's law students are dealing with mental health challenges including anxiety and depression at exorbitant rates, and many are unaware of the resources available to them on campus." She adds, "One of the opportunities we provide during Mental Health Awareness Week is Wellness Tabling, where we invite campus organizations, such as the Pepperdine Resilience-Informed Skills Education Program (RISE), the Student Health Center, the Student Care Team, the Counseling Center, and the Title IX Office, to connect with students regarding available mental health resources on campus."
Wellness Tabling will take place in the law school's Lon V. Smith Atrium and feature organizations such as the Los Angeles Department of Mental Health and Pepperdine's on-campus wellness resources to provide students with information on mental health resources available at the University and around Los Angeles County. Students may attend presentations led by the RISE program that discuss topics such as resilience and how to learn the skills needed to overcome daily struggles. Guest speaker Lita Abella, a senior program analyst for the Lawyer Assistance Program's (LAP) office of professional competence, will discuss the LAP's mental health and substance abuse resources available to all law students and lawyers. In addition, therapy dogs will be available on the law school's front lawn from noon to 2 PM on Wednesday, October 11, to relieve students from midterm stress.
"Mental Health Awareness Week allows us to have great conversations with students around mental health, something that is likely impacting more individuals than they would realize, and help them to understand they are not alone," says Neighbors. "Learning to talk and prioritize your mental health is extremely important, especially when choosing a career that requires you to advocate for others, such as a career in law."
Visit the Caruso School of Law events website to learn more about the events taking place throughout Mental Health Awareness Week.