Pepperdine University Opens Inaugural Resource Center for Veterans and Military-Connected Students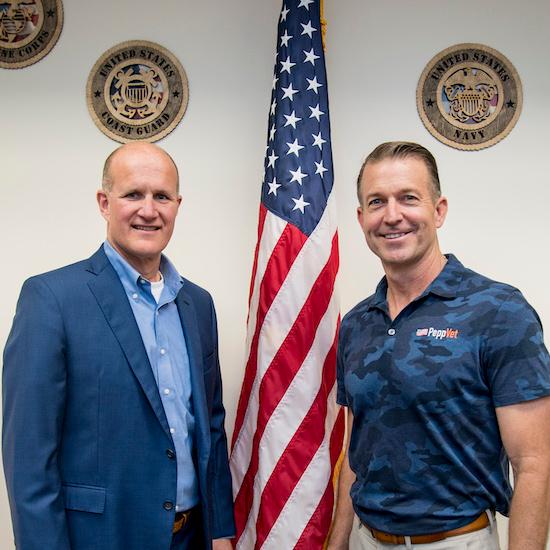 On Monday, November 6, 2023, Pepperdine University held the opening ceremony for its first on-campus resource center dedicated to veterans and military-connected undergraduate and graduate students. Across Pepperdine's five schools, more than 500 students have served in the military and 35 currently serve in some capacity. Pepperdine has proudly served the veteran community and their families through Christ-centered and veteran-focused resources and support for more than 75 years. The PeppVet Center now offers high-touch opportunities for the University to demonstrate its dedication to its growing community.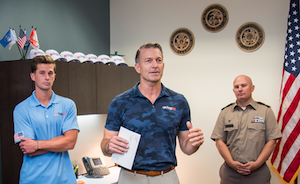 The PeppVet Center, located on the first floor of the Thornton Administrative Center, will guide students through their transition to civilian life and serve as a space for students' academic, career, and personal development. In addition, the center will provide military-connected students with a physical place for support, mentorship, and guidance. To foster a sense of community and pride, the center will also increase institutional awareness related to issues impacting these students.
The opening ceremony featured remarks by Eric Leshinsky, director of student veteran affairs at Pepperdine; University president Jim Gash (JD '93); and Dan Caldwell, Emeritus Distinguished Professor of Political Science at Pepperdine's Seaver College and United States Navy veteran. Brandon Olson, Seaver College student and PeppVet Council president gave the closing prayer.
Leshinsky spoke about the challenges students face when transitioning from military service to a university. He emphasized that the PeppVet Center was developed to meet the need for a physical location where military-connected students can find a sense of belonging and guidance.
"That's really why we created the PeppVet logo, the PeppVet community . . . something you can plant on the ground and circle around," said Leshinsky. "And what better place to do that than Pepperdine?"
President Gash further addressed the importance of creating a space on campus that highlights the University's values of Christianity and patriotism. He said while these don't mean the same thing, they often go hand-in-hand.
"It's great for people who are both of those things [Christian and patriotic] to have a place where they can say, 'You know what, I'm going to go to Pepperdine because they're going to respect things I value when I was in the military. They're going to respect my view of the world and who I'm serving,'" said Gash. "But then also to do so in an academic environment that clearly and unequivocally and unhesitatingly says you're welcome here, you're valued here, you belong here."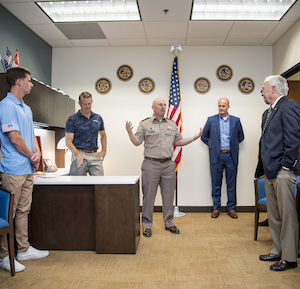 Arthur Gonzalez, a current Pepperdine Graziadio Business School (PGBS) student pursuing a master of business administration, a member of the PeppVet Council, and a PGBS Student Veteran Councilmember, believes in the importance of University resources such as the PeppVet Center in nurturing the personal and professional development of military-connected students.
"Having a dedicated space with resources for academic and personal support is indispensable for veterans and their families," says Gonzalez. "The PeppVet Center will be instrumental in empowering those who may be hesitant to seek help, making it easier for them to reach out and access the support they need. A heartfelt thank you goes out to Eric, our director of student veteran affairs, who has tirelessly supported us, served as our advocate, and fostered our engagement."
PGBS alumnus and former PeppVet Council president Major Joshua "Jay" Weisbecker (MBA '22) reflected on the event and the impact of the PeppVet Center on preparing students not only for successful careers, but also for successful lives.
"Part of leaving the military is losing a sense of purpose and community within service," Weisbecker says. "Pepperdine's commitment to the opening of the PeppVet Center is a way for the military-connected community to build a new sense of community based on a foundation of service. That connective tissue will enable their growth into the next chapter of their lives. It is hard to describe the connection we feel with those who have endured similar struggles, but that shared experience can truly help us take the next step to success."