Philanthropist and Entrepreneur Bernard Kinsey (MBA '73) to Join President Jim Gash (JD '93) for Coffee with Jim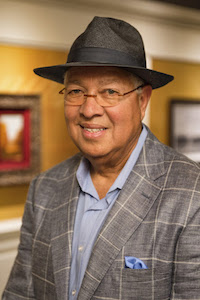 Pepperdine University's celebration of Black voices throughout Black History Month will commence with Coffee with Jim: A Conversation with Bernard Kinsey, featuring an online discussion between president Jim Gash and Kinsey, an internationally recognized business consultant with particular expertise and leadership experience in urban revitalization and market development. Hosted by Pepperdine University Alumni Affairs, Kinsey will explore his life story and art collection. The virtual chat will take place via Zoom on Friday, January 29, at noon PST.
Described by the New York Times as an "aggressive achiever," Kinsey is a former Xerox executive and former chief operating officer and co-chair of Rebuild Los Angeles, an organization created to revitalize Los Angeles following the civil unrest of 1992. He now serves as president and founder of KBK Enterprises, Inc., a real estate development consulting firm that specializes in communication, change management, and business-process reengineering.
Kinsey is also cofounder of the Kinsey African American Art & History Collection, alongside his wife of more than 50 years, Shirley P. Kinsey. As a celebrated educational resource with nationwide institutional partnerships ranging from kindergarten through college, the foundation assists academic and cultural institutions with increasing public awareness about African American history and culture.
Kinsey's accomplishments are wide-ranging, including generating more than $380 million for post-riot city rebuilding efforts in the 1990s, helping to build a large electric vehicle company, restructuring a number of Silicon Valley software companies, advising the city attorney's office, as well as helping restructure the sheriff's department into a more progressive law enforcement organization.
For additional information about the event, and to register to attend, visit the event's registration page.