Philosopher and Legal Scholar Robert George to Join Pepperdine Caruso School of Law and School of Public Policy as Honorary Distinguished Professor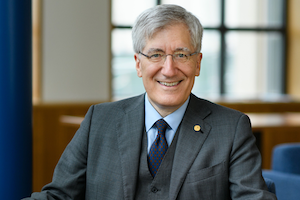 Princeton University professor Robert George has been named the inaugural Nootbaar Honorary Distinguished Professor of Law at the Caruso School of Law and the Ronald Reagan Honorary Distinguished Professor of Public Policy at the School of Public Policy. George will commence his new roles at Pepperdine in fall 2021 and serve a five-year term. He will continue to serve as McCormick Professor of Jurisprudence at Princeton University where he is a full-time faculty member. As an honorary distinguished professor at Pepperdine in both schools, he will be invited to give academic lectures, lead student colloquia, and participate in other speaking engagements with members of the Pepperdine community.
"We are thrilled to have Robby join us as our inaugural Nootbaar Honorary Distinguished Professor of Law," shared Paul L. Caron, Duane and Kelly Roberts Dean of the Caruso School of Law. "He is one of the leading voices in the country on the intersection of law and religion as well as the important role for faith in the public square. We are all very much looking forward to his time as part of the Caruso Law community and the opportunities it will provide for deep study and engagement on some of the most important issues of the day."
In January 2021 George was introduced to the University community at the inaugural President's Speaker Series event, where he joined fellow professor and political scholar Cornel West for a discussion of honesty and courage through the lens of faith. During the event George expressed that universities have a sacred mission to open students' minds to the truth and to encourage the pursuit of information from opposing sides to better understand and defend the truth. "We need to encourage that kind of inquisitiveness and openness and the sense that you can learn even from people who are wrong, even from people you disagree with," George said.
"I am delighted that Dr. George has accepted our invitation to affiliate with our schools of public policy and law as an honorary distinguished professor. His national platform and influential voice will elevate the conversation of respectful discourse and intellectual freedom at Pepperdine," said Jim Gash (JD '93), president of Pepperdine University. "Dr. George brings to Pepperdine his passion to invest in the leadership development of students, which is one of our most cherished core values."
During its 24-year history, the School of Public Policy has welcomed noted scholars to lead classroom discourse through a number of visiting professorships to help prepare America's next generation of public leaders. From a list that includes James Q. Wilson, Lanhee Chen, Victor Davis Hanson, Karen Elliot House, Jack Kemp, and Michael Novak, this role has been essential to establishing the school's distinctive national identity while providing students with opportunities to learn from the nation's leading policy practitioners and intellectuals.
The most distinguished of the School of Public Policy's visiting professorships is the Ronald Reagan Professor of Public Policy, launched in the program's first years and approved by Nancy Reagan. As the school's first-ever visiting professorship, and the only professorship in the president's name at any policy program in the United States, the position was initially endowed and facilitated by University supporter Flora L. Thornton.
"From the late James Q. Wilson to Bill McClay and Steve Hayward, our Ronald Reagan professorship has been held by some of America's great scholars who have made the lessons of history and the Great Books relevant to our next generation of public leaders," says Pete Peterson (MPP '07), dean and Braun Family Dean's Chair at the School of Public Policy. "We're honored to welcome Robby George—an acclaimed academic with a commitment to viewpoint diversity—to serve as our next Ronald Reagan Honorary Distinguished Professor of Public Policy."
George is the McCormick Professor of Jurisprudence and director of the James Madison Program in American Ideals and Institutions at Princeton University and is a visiting professor at Harvard Law School. He has served as chair of the US Commission on International Religious Freedom and as a presidential appointee to the US Commission on Civil Rights. George has also served on the President's Council on Bioethics and as the US member of UNESCO's World Commission on the Ethics of Science and Technology. He was a judicial fellow at the Supreme Court of the United States, where he received the Justice Tom C. Clark Award.
A Phi Beta Kappa graduate of Swarthmore College, George holds degrees from Harvard University and Oxford University, in addition to 22 honorary degrees. He is a recipient of the US Presidential Citizens Medal, the Honorific Medal for the Defense of Human Rights of the Republic of Poland, and is a member of the Council on Foreign Relations. The University of Dallas and the American Enterprise Institute host the Robert P. George Initiative in Faith, Ethics, and Public Policy in Washington, D.C. His most recent book is Conscience and Its Enemies.