Pianist Gabriela Martinez to Perform Sold-Out Show at Raitt Recital Hall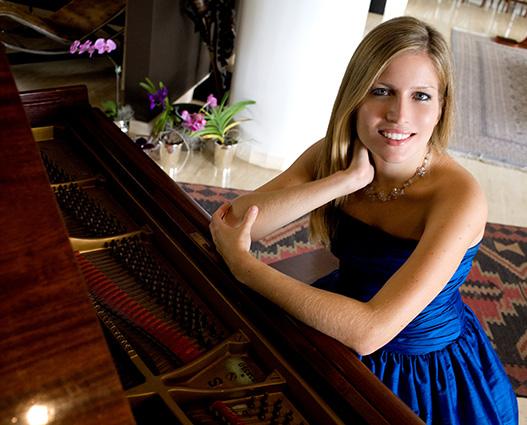 The Lisa Smith Wengler Center for the Arts continues its 2015-2016 Recital Series with a special performance by the versatile and daring pianist Gabriela Martinez in Raitt Recital Hall at Pepperdine University at 2 PM on Sunday, January 24.
The program will include Rachmaninoff's Moment Musicaux, Op. 16, No. 1; Dan Visconti's Amplified Soul (written for Gabriela); Beethoven's Piano Sonata Op. 10, No.3; Adam Schoenberg's 4 Etudes; and Szymanowski's Variations in B flat minor, Op.3.
Lauded by The New York Times as "compelling, elegant, and incisive," Venezuelan pianist Gabriela Martinez is quickly establishing a reputation and earning praise as a versatile artist who combines "panache and poetry" (Dallas Morning News) with a "sense of grace and clarity" (The Star Ledger).
Most recently, Gabriela debuted with the Boulder Philharmonic Orchestra, the Buffalo Philharmonic Orchestra, and the Delaware and Jacksonville symphony orchestras. Also in 2015, her debut solo album was released, offering both established and contemporary works, including a world premiere.
Respected for her inspiring performances and ability to clearly present the essence of a work, Gabriela has given world premieres of works by such contemporary composers as Mason Bates, Samuel Zyman, and Liduino Pitombeira. American composer Dan Visconti also wrote a piece specifically for her entitled Amplified Soul, which Gabriela will perform in the recital at Pepperdine University.
Gabriela has performed with the symphony orchestras of Houston, Tucson, Pacific, West Michigan, Stockton and Texarkana, the National Philharmonic and Wisconsin Philharmonic in the United States; with Canada's Victoria Symphony Orchestra, and the Costa Rica National Symphony. Solo recitals have included Canada's Glenn Gould Studio, South Carolina's Brooks Center for the Performing Arts and New York's Merkin Hall and Weill Recital Hall at Carnegie Hall, and chamber music appearances included the Chamber Music Society of Fort Worth, the El Paso Pro Music Series and the Kansas City Harriman-Jewell Series, to name a few.
As a soloist, Ms Martinez has played with numerous distinguished symphony orchestras, including San Francisco, Chicago, Houston, New Jersey, Tucson and Fort Worth, Stuttgarter Philharmoniker, MDR Rundfunkorchester, Nurnberger Philharmoniker, and the Simon Bolivar Symphony Orchestra (Venezuela). Among the conductors whose baton she has performed under are Gustavo Dudamel, James Gaffigan, James Conlon, Marcelo Lehninger and Guilllermo Figueroa. Ms. Martinez has performed at such esteemed venues as New York City's Carnegie Hall, Avery Fisher Hall, and Alice Tully Hall; Salzburg's Grosses Festspielhaus; Dresden's Semperoper; Copenhagen's Tivoli Gardens, and Paris's Palace of Versailles. As a chamber musician, she regularly performs in recitals and festivals. Among the musicians and ensembles with whom she has collaborated are violinists Itzhak Perlman and Elena Urioste, cellist Carter Brey, the Diaz Trio, and the Takács and Calder quartets. Her festival credits include the Mostly Mozart, Ravinia, and Rockport festivals in the United States, Italy's Festival dei Due Mondi, Switzerland's Verbier Festival, the Festival de Radio France et Montpellier and Japan's Tokyo International Music Festival.
A First Prize winner of the Anton G. Rubinstein International Piano Competition in Dresden and a semifinalist at the 12th Van Cliburn International Piano Competition, where she also received the Jury Discretionary Award, Gabriela began her piano studies in Caracas with her mother Alicia Gaggioni, making her orchestral debut at age seven. She emigrated to the United States to attend The Juilliard School, where she earned her Bachelor and Master of Music degrees as a full scholarship student of Yoheved Kaplinsky. Gabriela was a fellow of Carnegie Hall's The Academy, and a member of its celebrated Ensemble ACJW while concurrently working on her doctoral studies with Marco Antonio de Almeida in Halle, Germany.
Tickets for this recital are currently sold out. To be added to a waiting list, call the Center for the Arts box office at (310) 506-4522. For more information, visit the Center for the Arts website.