Pianist Paul Barnes to Perform the New Etudes of Philip Glass and Music of the Next Generation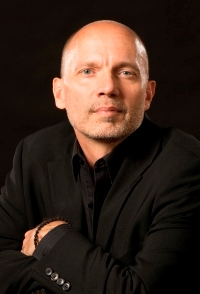 Paul Barnes, who has electrified audiences with his intensely expressive playing and cutting-edge programming, will perform at Raitt Recital Hall Tuesday, January 19, at 7:30 PM.
Barnes, who has been featured four times on APM's Performance Today and on the cover of Clavier Magazine, will perform new works by Philip Glass, Jonah Gallagher, Lucas Floyd, Jason Bahr, Ivan Moody, Zack Standon, and Pepperdine professor of music N. Lincoln Hanks.
Barnes' 12th album entitled New Generations: The New Etudes of Philip Glass and Music of the Next Generation was released in November of 2015 and features a selection of the pianist's etudes juxtaposed with works by N. Lincoln Hanks, Lucas Floyd, Ivan Moody, Jason Bahr, Zack Stanton, and Jonah Gallagher. The sonic result is a breathtaking panorama of the energetic and expressive landscape that is twenty-first century piano music. Barnes has already performed the recital version of New Generations in Los Angeles, Seoul, Portland, Vienna, Chicago, and New York and is touring the U.S. with the program during the 2015-2016 season.
Barnes' recordings are broadcast worldwide, and he has performed in England, China, Korea, Taiwan, Austria, Russia, Greece, Italy, Serbia, Hungary, and in all major cities throughout the U.S. Deeply inspired by the aesthetic challenge of minimalism, Barnes commissioned and gave the world premiere performance of Philip Glass' Piano Concerto No. 2 (After Lewis and Clark). The Omaha World Herald praised Barnes for his "driving intensity and exhilaration." Nebraska Educational Telecommunications' production "The Lewis and Clark Concerto," a documentary/performance of the concerto featuring Barnes, won an Emmy Award for Best Performance Production. Additional performances included collaborations with conductor Marin Alsop at the prestigious Cabrillo Festival of Contemporary Music and also the Northwest Chamber Orchestra, which the Seattle Times called "an impressive feat."
Barnes also serves as head chanter at Annunciation Greek Orthodox Church in Lincoln, Nebraska, where his fascination with Byzantine chant led to a commissioned piano concerto "Ancient Keys" written by Victoria Bond based on a Greek chant.
Barnes is Marguerite Scribante Professor of Music at the University of Nebraska-Lincoln Glenn Korff School of Music. During the summer, he teaches at the Vienna International Piano Academy and also coaches the students of Menahem Pressler, Barnes' own teacher, at Indiana University, where Barnes received his doctorate in piano performance. Barnes has also served as convention artist at several state MTNA conventions and was recently named Teacher of the Year by the Nebraska Music Teachers Association. He teaches and performs regularly at the famed Amalfi Coast Festival in Italy.
In celebration of 20 years of collaboration, Barnes is also commissioning Philip Glass to write a piano quintet to be premiered with the Chiara Quartet in September of 2016 at the Lied Center for Performing Arts in Lincoln. Barnes' recordings are available on Pandora, ITunes, YouTube, and Amazon.
For more information about this event, visit the Center for the Arts website.