Popular A Cappella Group Rockapella to Perform at Smothers Theatre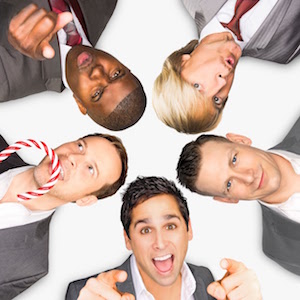 Rockapella, the popular a cappella group that features four world-class vocalists and one of the music industry's top vocal percussionists, will bring their special holiday performance, A Rockapella Holiday, to Smothers Theatre in Malibu on Tuesday, December 6, at 8 PM.
Rockapella's astonishing, full-band sound—a sound that seems impossible coming from just five guys with microphones and no instruments or tracks—keeps its audiences coming back year after year and constantly attracts new fans. This year, with their show A Rockapella Holiday, the group will perform some of the best-loved holiday songs, such as "The Little Drummer Boy," "I Have a Little Dreidel," and "Auld Lang Syne."
The current Rockapella lineup includes Scott Leonard (high tenor), Jeff Thacher (vocal percussionist), Steven Dorian (tenor), Calvin C. Jones (tenor), and Ryan Chappelle (bass).
The group is best known in the U.S. as innovative entertainers whose clever wit, shtick, and tunes were the jet-thrusters for the 295 episodic voyages of the PBS television program Where in the World is Carmen Sandiego? The show's theme song is still the group's most downloaded song.
The versatile group has been all over the entertainment map, appearing early on in the PBS Do It A Cappella special hosted by Spike Lee. They have also performed with Whoopi Goldberg on her television specials, as well as on jingles for Folgers coffee and Almond Joy chocolates, custom promos for The Today Show, and an appearance on The Tonight Show with Jay Leno. The group has also ventured out into the instrumental world, accepting an invitation to perform with Boston Pops Orchestra.
Rockapella has traveled far in the sonic solar system since its early collegiate roots, when an enthusiastic a cappella quartet of Brown University graduates started singing doo-wop on New York City street corners in 1986. Over the decades Rockapella has evolved into a high-energy concert performance troupe that travels the globe, giving at least 80 concerts a year.
Ticket prices range between $10 and $45, and are required for attendance. For additional information about the performances, and to purchase tickets, visit the Center for the Arts website.