Popular Grammy Award Winning Musical Group Coming to Pepperdine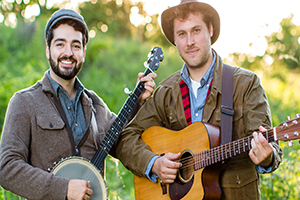 Grammy Award-winning duo The Okee Dokee Brothers bring their passion for the outdoors and their unique Americana family folk music to Smothers Theatre at 11 a.m. on Saturday, April 25.
There will be a free, open to the public Family Art Day from 10 a.m. to 1 p.m. before and after the performance, featuring hands-on art projects and Weisman Museum tours.
As childhood friends growing up in Denver, Colorado, Joe Mailander and Justin Lansing were always exploring the outdoors. Whether it was rafting down their neighborhood creek or discovering hiking trails through the Rocky Mountains, Joe and Justin were born adventurers.
Now, as the Grammy Award-winning The Okee Dokee Brothers, they record and perform family music with a goal to inspire children and their parents to get outside and get creative, motivating kids to gain a greater respect for the natural world, their communities and themselves. Both of their albums, Can you Canoe? and Through the Woods, have been nominated for a Grammy Award for Best Children's Music Album, with Can You Canoe? winning at the 55th annual Grammy Awards.
In addition to their musical achievements, Joe and Justin have produced two companion movies about their adventures as they camped, hiked, canoed, and composed the songs on their albums. The Through the Woods movie was named Best Short Comedy in the Somewhat North of Boston film festival, and as an official selection in Queen City, Providence, Vail, Maryland International, and Bangladesh International Children's Film Festivals
The three-time Parents' Choice Award winners have garnered praise from the likes of NPR's All Things Considered and USA Today, and have been called "two of family music's best songwriters." Their nationwide fan base is drawn to their witty lyrics, strong musicianship and unique folk style. By appealing to the musical needs of the entire family and recognizing that kids deserve quality music, The Okee Dokee Brothers are working full-time to advance the family music genre.
Tickets are $10 for youth 17 and under, $12-$15 for adults, and $10 for Pepperdine students. For tickets and more information, please call (310) 506-4522 or visit the Center for the Arts website.