President Andrew K. Benton Receives Distinguished Alumnus Award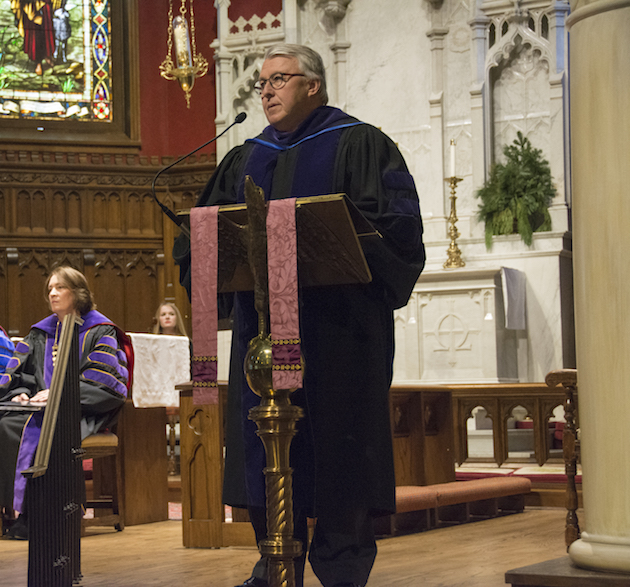 Pepperdine president Andrew K. Benton, who received his Juris Doctor degree from the Oklahoma City University (OCU) School of Law in 1979, was honored with its 2015 Distinguished Law Alumnus Award and delivered the commencement address at its December graduation on Saturday, December 19, 2015.
"The Distinguished Law Alumnus Award at Oklahoma City University School of Law honors a prominent alumnus who has had an exceptional career and achieved professional distinction through contributions on an international, national, state, or community level," says Valerie K. Couch, dean of the law school. "As an influential leader in American higher education for nearly four decades, Andrew Benton epitomizes this award and honor. Andy has provided the highest level of contributions through his service on the American Council on Education, his innovative leadership at Pepperdine University, his personal devotion to his students, and his strong advocacy for the value of a transformative college experience. Through his life's work, he has strengthened the reputation, capacity, and vision of Oklahoma City University School of Law and brought honor to our school and the legal profession."
President Benton has served as the seventh president of Pepperdine University since 2000 and continues to lead Pepperdine to prominence among the nation's top universities. A lawyer by training, President Benton has enjoyed a long-standing relationship with the OCU School of Law and served as a founding member of its executive board for a number of years. President Benton currently serves as immediate past chair of the Association of Independent California Colleges and Universities, and is on the boards of directors of the National Association of Independent Colleges and Universities, as well as the President's Cabinet of the West Coast Conference. He is also past chair of the American Council on Education, the major coordinating body for all of the nation's higher education institutions, and has served as chair of the Council for Higher Education Accreditation.
President Benton has been involved in higher education administration for nearly 40 years. Prior to his presidency, he served in several key leadership roles at Pepperdine, including executive vice president and vice president for university affairs and administration. President Benton holds a J.D. from the Oklahoma City University School of Law and is a 1974 graduate of Oklahoma Christian University with a B.S. in American Studies. He has written numerous pieces concerning the state of higher education in the United States that have appeared in the Huffington Post and elsewhere.