President's Speaker Series Launches with Robert George and Cornel West in Dialogue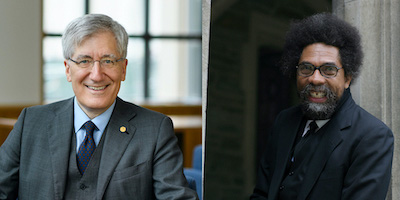 In ongoing efforts to build a community of belonging, the Office of the President has launched the President's Speaker Series that welcomes distinguished scholars and thought leaders representing diverse points of view to examine topics and issues facing our communities and the world today. Driven by a desire to connect deeply with the University community and inspire meaningful dialogue, the series will provide opportunities to cultivate an engaged and impassioned collective through civil discourse.
The inaugural event of the series, "Honesty and Courage, Humility and Hope: Robert George and Cornel West in Dialogue," will take place via Zoom on January 12, 2021, at 5 PM PST and explore the deep character required to engage thoughtfully and respectfully in vibrant conversations that explore diverse viewpoints.
"In the current climate, in the public square, on social media, and even in the University, we are missing each other's points and talking past each other. Pepperdine aspires to lead our nation in modeling a community where people can disagree and still respect and learn from each other. My hope is that this initiative will prove that the simple truth of loving and honoring our neighbor is the most powerful tool we have to rebuild unity," explains Jim Gash (JD '93), president and chief executive officer of Pepperdine University. "Pepperdine was founded to be a light to the world—a place where the truth, having nothing to fear from investigation, should be pursued relentlessly in every discipline. Perhaps now more than ever our divided world needs a light—a place that draws people together to pursue the truth with love and respect."
George is the McCormick Professor of Jurisprudence and director of the James Madison Program in American Ideals and Institutions at Princeton University and is a visiting professor at Harvard Law School. He has served as chair of the US Commission on International Religious Freedom and as a presidential appointee to the US Commission on Civil Rights. George has also served on the President's Council on Bioethics and as the US member of UNESCO's World Commission on the Ethics of Science and Technology. He was a judicial fellow at the Supreme Court of the United States, where he received the Justice Tom C. Clark Award.
A Phi Beta Kappa graduate of Swarthmore College, George holds degrees from Harvard University and Oxford University, in addition to 19 honorary degrees. He is a recipient of the US Presidential Citizens Medal, the Honorific Medal for the Defense of Human Rights of the Republic of Poland, and is a member of the Council on Foreign Relations. Baylor University has named its new Washington, DC-based program the Robert P. George Initiative in Faith, Ethics, and Public Policy. His most recent book is Conscience and Its Enemies.
West is a professor of the practice of public philosophy at Harvard University and Professor Emeritus at Princeton University. West has written 20 books and edited 13. He is best known for Race Matters and Democracy Matters, and for his memoir, Brother West: Living and Loving Out Loud. His most recent book, Black Prophetic Fire, offers an unflinching look at 19th- and 20th-century African American leaders and their visionary legacies.
West is the co-host, along with Tricia Rose, of The Tight Rope, a weekly podcast that welcomes listeners and guests as thought collaborators with the revered hosts and public intellectuals. He is a frequent guest on the Bill Maher Show, CNN, C-SPAN, and Democracy Now. He has a passion for communicating with a vast variety of publics in order to keep alive the legacy of Martin Luther King, Jr.—a legacy of telling the truth and bearing witness to love and justice. West graduated magna cum laude from Harvard University in three years and obtained his MA and PhD in philosophy at Princeton University.
For more information about "Honesty and Courage, Humility and Hope: Robert George and Cornel West in Dialogue," and to register to attend, visit the President's Speaker Series website.