President's Speaker Series Presents the Kinsey Family in Discussion About the Myth of Absence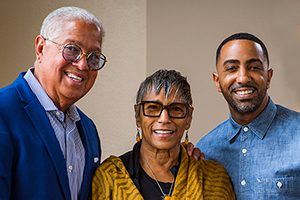 The President's Speaker Series welcomes Bernard (MBA '73), Shirley (MA '76), and Khalil Kinsey, who together will present "The Kinsey African American Art & History Collection - 'The Myth of Absence'" via Zoom on Wednesday, February 24, at 5 PM PST. This event is part of Pepperdine's celebration of Black History Month that seeks to uplift Black voices, celebrate Black achievements, and serve as moments of reflection and remembrance of Black history in the United States.
Through a powerful and engaging interactive presentation, the Kinsey family will give an in-depth view and perspective of the objects and periods in history featured in the Kinsey Collection, widely considered one of the most comprehensive surveys of African American history and culture outside the Smithsonian Institution. The presentation will inspire, educate, and entertain—filling in gaps to the American story by highlighting the many and often untold examples of African American achievement and contribution.
During this dynamic presentation, audiences will be introduced to the "myth of absence" concept that has played a significant role in America's view of African Americans. Serving as a virtual tour of the Kinsey African American Art & History Collection, the presentation will prompt attendees to question what they were taught and challenge thought processes in regards to race and contribution in America.
"I am excited to introduce the Kinsey family to our entire Pepperdine community and to hear their insightful discussion about the important—and too often overlooked—role African Americans played in the development of American history," explains president Jim Gash (JD '93).
While traveling and exploring other countries and cultures as newlyweds, Bernard, an internationally recognized business consultant with particular expertise and leadership experience in urban revitalization and market development, and Shirley, who has held careers in both education and corporate America, began collecting art and artifacts as treasured memories of their travel experiences. As their collection grew, their passion for world culture led them to want to understand and develop a deeper connection with their own African American history and culture.
Through countless travels and life-changing experiences, the Kinseys' journeys inspired them to study, and then collect, objects that share their own heritage, arts, and culture. Today, the Kinsey African American Art & History Collection travels the globe as an award-winning museum exhibition—led by the stewardship of Bernard and Shirley and their son, Khalil, who began working alongside his parents in 2009 and serves as general manager and curator for the Kinsey African American Art & History Collection. Khalil also oversees the Kinsey Collection exhibitions and properties, including operations, museum services, strategic partnerships, and more.
For additional information about "The Kinsey African American Art & History Collection - 'The Myth of Absence,'" and to register to attend, visit the President's Speaker Series website.