President's Speaker Series Welcomes Moderna CEO and Leading Experts to Discuss COVID-19 Vaccine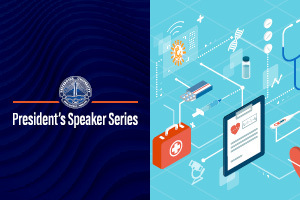 Recognizing the current global and national focus on the development and distribution of COVID-19 vaccines, the March 2021 installment of the President's Speaker Series will present a moderated panel of leading medical, pharmaceutical, and biotechnology experts who will share their professional knowledge and experience with COVID-19 vaccines and examine what society might expect from vaccines in the future.
Stéphane Bancel, chief executive officer of Moderna, Stephen M. Hahn, former commissioner of food and drugs at the US Food and Drug Administration, and Jonathan B. Perlin, president of the Clinical Services Group and chief medical officer of HCA Healthcare, will present "Vaccines: Where Are We and Where Are We Going?" via Zoom on Monday, March 29, at 5 PM PDT. Dee Anna Smith ('86), CEO of Sarah Cannon, the Cancer Institute of HCA Healthcare, and chair of the Pepperdine Board of Regents, will moderate the discussion.
Bancel has served as Moderna's chief executive officer since October 2011 and as a member of its board of directors since March 2011. Before joining Moderna, Bancel served for five years as chief executive officer of the French diagnostics company bioMérieux SA. From 2000 to 2006, he held several positions at the pharmaceutical company Eli Lilly and Company, including as managing director, Belgium and as executive director, global manufacturing strategy and supply chain. Prior to joining Eli Lilly, Bancel served as Asia-Pacific sales and marketing director for bioMérieux.
Bancel is currently a member of the board of directors of Qiagen N.V. and Indigo, AG. He is also a venture partner at Flagship Pioneering and a trustee of the Museum of Science in Boston. Bancel holds a master of engineering from École Centrale Paris, a master of science in chemical engineering from the University of Minnesota, and an MBA from Harvard Business School.
Hahn is a physician, scientist, and healthcare leader with an extensive background in patient care, academic research, and executive leadership. He served as the 24th commissioner of food and drugs at the US Food and Drug Administration (FDA) from 2019 to January 2021.
Prior to joining the FDA, Hahn served as the chief medical executive at the University of Texas MD Anderson Cancer Center, a facility that cares for more than 140,000 patients a year. In this role, he was responsible for day-to-day management of the institution, including business, clinical, and faculty matters. Under his purview was one of the largest clinical trial groups in the country. Before joining MD Anderson, he served as chair of the radiation oncology department at the University of Pennsylvania's Perelman School of Medicine from 2005 to 2014.
A dedicated clinician, Hahn trained in both medical oncology and radiation oncology. He specializes in treating both lung cancer and sarcoma. Throughout his oncology career, he authored more than 220 peer-reviewed original research articles. His research has focused on the molecular causes of the tumor microenvironment, particularly the study of chemical signals that go awry (known as aberrant signal transduction pathways), and the evaluation of proton therapy as a means of improving the effectiveness of radiation therapy. His experience in medical product development and clinical trials spans drugs, biologics, medical devices, and diagnostics.
Hahn earned the rank of commander in the US Public Health Service Commissioned Corps while at the National Institute of Health's National Cancer Institute, where he also completed a fellowship in medical oncology and a residency in radiation oncology. He also completed a residency in internal medicine at the University of California, San Francisco. He graduated from the Lewis Katz School of Medicine at Temple University in Pennsylvania and received his bachelor's degree in biology from Rice University in Texas.
Perlin is president of the clinical services group and chief medical officer of Nashville, Tennessee-based HCA Healthcare, one of the nation's leading providers of healthcare services. He oversees the organization's team of nationally recognized clinical leaders, data scientists, researchers, and improvement experts who drive HCA Healthcare's clinical excellence agenda. The many advancements under this leadership include the company's development of Sepsis Prediction and Optimization of Therapy, or SPOT, an algorithm-driven sepsis early warning technology that received the prestigious 2019 John M. Eisenberg Patient Safety and Quality Award.
Before joining HCA Healthcare in 2006, Perlin led the nation's largest integrated health system as under secretary for health in the US Department of Veterans Affairs. In this role, he directed care to more than six million patients annually by more than 250,000 healthcare professionals at 1,400 locations, including hospitals, clinics, nursing homes, counseling centers, and other facilities, with an operating and capital budget of nearly $40 billion.
Currently Perlin serves as chair of the Secretary of Veterans Affairs' Special Medical Advisory Group. He is on the board of Meharry Medical College and is chair of the National Quality Forum. In 2009 he was appointed as the inaugural chair of the US Department of Health and Human Services Health IT Standards Committee. He has received numerous awards including the Founders Medal from the Association of Military Surgeons of the United States, and is one of the few honorary members of the Special Forces Association and Green Berets.
Perlin is a master of the American College of Physicians and fellow of the American College of Medical Informatics. He has a master of science in health administration and received his PhD in pharmacology (molecular neurobiology) with his MD as part of the Physician Scientist Training Program at the Medical College of Virginia of Virginia Commonwealth University.
Smith is the chief executive officer of Sarah Cannon, the Cancer Institute of HCA Healthcare. Appointed as CEO in 2006, Smith is responsible for leading the organization's overall mission and vision to make a global impact on cancer research and care. Under her leadership, Sarah Cannon has expanded its ability to bring world-class cancer care closer to home for hundreds of thousands of people facing cancer across the United States and the United Kingdom. Smith began her tenure with Sarah Cannon Research Institute in 2005, where she served as chief information officer and president of its Research Services division.
Before joining Sarah Cannon, Smith founded two companies focused on clinical trial services: SiteWorks Solutions, which was acquired by Oracle, and Summit Research Solutions, which was acquired by HCA Healthcare to as part of Sarah Cannon's research platform. She began her career as an auditor and certified public accountant with KPMG, one of the world's largest accounting firms.
She has received numerous recognitions. In February 2021 Smith was named by the Association to Advance Collegiate Schools of Business as one its 2021 Influential Leaders. She received the Seaver College Distinguished Alumnus Award in 2019 and in 2017 was recognized by the Nashville-based Operation Andrew as a Rodgers Award recipient for making an impact on lives and communities in middle Tennessee and beyond.
Smith is the chair of the Pepperdine University Board of Regents, chairs the board of the Nashville Entrepreneur Center, and is a member of the board of directors of the Nashville Health Care Council. She is also a member of the American Institute of Certified Public Accountants and the American Society of Clinical Oncology. Smith earned her bachelor's degree in accounting from Pepperdine University.
For additional information about "Vaccines: Where Are We and Where Are We Going?" and to register to attend, visit the President's Speaker Series website.