Professor and Author Byron Johnson to Discuss the Impact of Faith on Human Flourishing at President's Speaker Series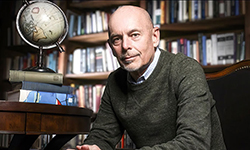 Byron Johnson, Distinguished Professor of Social Sciences at Baylor University, will lead the next installment of the President's Speaker Series on Thursday, March 10, 2022, at 6 PM in Elkins Auditorium and via Livestream. The event, titled "The Impact of Faith on Human Flourishing and the Common Good: A Conversation with Byron Johnson," will explore Johnson's scholarship on the impact of faith on human flourishing and the potential for religion to facilitate and contribute to the common good of all humanity.
"As a Christian university committed to the relentless pursuit of faith and truth together, Pepperdine University must encourage the critical conversations that examine the interplay and impact of these two cherished values," says Pepperdine president Jim Gash (JD '93). "We are delighted to welcome Byron Johnson for this powerful discussion."
Johnson is a Distinguished Professor of the Social Sciences at Baylor University. The founding director of the Baylor Institute for Studies of Religion and director of the Program on Prosocial Behavior, Johnson is a leading authority on the scientific study of religion, the efficacy of faith-based organizations, and criminal justice. His most recent publications have examined the impact of faith-based programs on recidivism reduction and prisoner reentry.
Before joining the faculty at Baylor University, Johnson directed research centers at Vanderbilt University and the University of Pennsylvania. He has been the principal investigator on grants from private foundations as well as the Department of Justice, Department of Labor, Department of Defense, National Institutes of Health, and the United States Institute for Peace. He is the author of many journal articles and a number of books including More God, Less Crime (2011); The Angola Prison Seminary (2016); The Quest for Purpose (2017); Objective Religion: Competition, Tension, Perseverance (2021); The Restorative Prison (2021); and Objective Religion: Problems, Prosociality, Progress (2022).
The President's Speaker Series, which launched in January 2021, has welcomed distinguished scholars and thought leaders—including the Kinsey family, legal scholar Robert George, esteemed philosophy academic Cornel West, and Moderna CEO Stéphane Bancel—representing diverse perspectives to examine issues facing our communities and the world today. Driven by a desire to connect deeply with the Pepperdine community and inspire meaningful dialogue in the pursuit of truth, the series provides opportunities to cultivate an engaged and impassioned collective through civil discourse.
To learn more about the event and to register to attend visit the President's Speaker Series website.