Religion Professor Dyron B. Daughrity Writes Book on the Mutual Impact Between Los Angeles and Christianity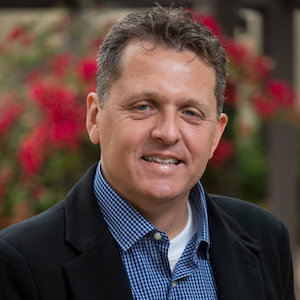 Dyron B. Daughrity, Christian historian, author, and professor of religion at Seaver College, will serve as the general editor of London-based Bloomsbury Publishing's upcoming 25-book series, Christians in the City: Studies in Contemporary Global Christianity.
Authored by established and rising international scholars from diverse backgrounds, each of the 25 monographs—five of which will be published every year for five years—will focus on how Christianity has impacted various metropolitan areas around the globe, including Athens, Berlin, Havana, Johannesburg, Moscow, New York, Seoul, and Shanghai, as well as the effects those cities have had on the Christian religion. Along with his role as general editor, Daughrity will also write the volume on Los Angeles during his fall 2021 sabbatical and throughout 2022, with an expected publication year of 2023.
"The significant impact of Christianity on Los Angeles is a story that is currently only available in bits and pieces. But when you put it all together, it is clear that Los Angeles is crucial to American and world Christianity," explains Daughrity. "The most important thing I want to accomplish in my writing, my ministry, and my life is to demonstrate that while we make mistakes, we can help heal the world and bridge the divides that are hurting us. As God's children, we should stop seeing ourselves as members of separate political and religious teams, because we are members of the human team."
Christians in the City will apply analysis through the lens of anthropology, ethnography, history, phenomenology, and sociology, and explore topics of globalization, lived and material religion, and urban studies in relation to Christian engagement. Each of the 25 volumes will feature numerous interviews with both leading city figures and laypeople in order to capture wide and inclusive perspectives that highlight Pentecostalism, Roman Catholicism, and mainline Protestantism, as well as unique insights from nondenominational megachurches, Eastern Orthodox churches, and house churches. Details about Christian organizations located throughout each of the cities, including institutions of higher education, parochial schools, and faith-based charities, will also be referenced.