Rock Legend Jim Messina to Perform at Smothers Theatre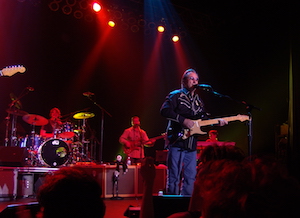 Guitarist and singer-songwriter Jim Messina will bring his musical talents to Smothers Theatre in Malibu on Sunday, January 29, at 7 PM.
As one half of Loggins and Messina, cofounder of the country-rock band Poco, and member and key contributor to Buffalo Springfield, Messina has left an indelible footprint on popular music. He produced, engineered, and composed much of the Loggins and Messina, Poco, and Buffalo Springfield albums, selling over 20 million albums domestically.
The rock legend's performances with his new touring band are a rousing hit across the country, and the shows include some of the best of his own material and as well as that of some of the illustrious company he has kept over the years. With an album of all-new material, Messina says he is enjoying discovering who he is, where he has been, and where he is going.
Messina began learning guitar at the age of five, and as he got older was attracted in particular to the guitar parts and sounds in early Elvis Presley and Ricky Nelson records. His California roots led him to early 1960s surf music, especially fascinated by the guitar sounds of Dick Dale and the DelTones and the Champs. At the age of 17, he got his first gig as a music producer, working on two albums a local deejay was working on. Though both albums made beelines for oblivion, the studio's engineer was impressed with Messina and asked him to stay on as his assistant and protégé.
Over the next few years Messina became a knowledgeable and skilled recording, mixing, and mastering engineer as well as musician and producer, having graduated to the position of second engineer at Hollywood's famed Sunset Sound, working with superstars-to-be, among them the Doors, Lee Michaels and Herb Alpert & the Tijuana Brass, and later Buffalo Springfield.
After engineering their second album, Buffalo Springfield Again, on which he also served as something of an uncredited producer, Jim joined the group playing bass and producing their final album, Last Time Around. When Buffalo Springfield splintered in 1968, Messina, Richie Furay, and Rusty Young were already formulating a plan to hang onto the rock and roll and country influences they loved. Thus, Poco was born.
Messina departed with hopes of returning to the producer's chair, and was soon rewarded with a six-album production deal with Columbia Records. His first project was a young singer-songwriter named Kenny Loggins. Messina became an integral part of Loggins' debut, Sittin' In, and felt a desire to join the newcomer on his first tour until Loggins was firmly and confidently established. The credibility Messina brought from his days with both the Springfield and Poco bands cemented the relationship in the label's eyes.
Messina made three solo albums in the 1980s, as well as recording and touring with the original, reunited Poco when they released the album Legacy in 1989.
Ticket prices range between $10 and $50, and are required for attendance. For additional information about the performances, and to purchase tickets, visit the Center for the Arts website.