Sara Young Jackson Named Chancellor of Pepperdine University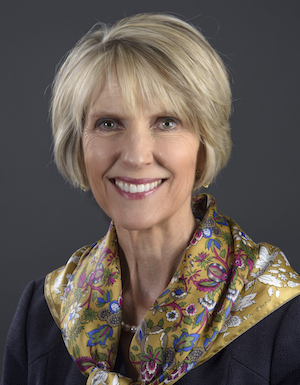 Sara Young Jackson ('74), who has served Pepperdine University in key leadership roles since 1979, has been named chancellor. She will assume her duties on August 1, 2019.
Jackson currently serves as senior vice chancellor, a role in which she promotes and advances the progress of the University through major-gift fundraising. In this capacity, she sits on the University Board, manages the Seaver College Board of Visitors, and acts as the liaison for the student life committee of the Board of Regents.
As chancellor, Jackson will take a leadership role on major initiatives to help strengthen the University's endowment while cultivating meaningful relationships to extend Pepperdine's reach throughout Southern California and around the globe. The chancellor is also a member of the University's senior leadership team and will serve as an important advisor to President-elect Jim Gash (JD '93).
"As Pepperdine's incoming leadership team advances its shared vision to be recognized as a preeminent Christian university with a global reach, its goals require the dedication of people who know and love Pepperdine, who are deeply connected to the friends of Pepperdine, and who have demonstrated the capacity to build significant new friendships for Pepperdine," said Gash. "For the past 15 years as senior vice chancellor, Sara has brought professionalism, grace, and an impressive track record of fundraising to her role. I am honored to partner with her to advance our shared aspirations."
Jackson, a lifelong member of the Pepperdine community, received her first introduction to the University when her father, M. Norvel Young, became its third president in 1957. For the next four decades, the Youngs cultivated the growth of the University, playing instrumental roles in the development of the student body and the move from Pepperdine's original campus location in South Los Angeles to its current location in Malibu.
"Sara is an extraordinary professional who has, for decades, demonstrated a true commitment to Pepperdine and its students and the worthy cause of Christian higher education," said Keith Hinkle, senior vice president for advancement and public affairs. "Her enthusiasm for sharing the Pepperdine story with friends near and far has facilitated meaningful support for the University in effective ways. Pepperdine's future is brighter with the institutional pride that Sara will bring as chancellor."
Jackson began her decades-long career at Pepperdine as the assistant director of student life and soon advanced to the director position. Under the leadership of President David Davenport in the late 1980s, she was called on by Seaver College professor Carolyn Vos Strache to work with student leaders to design and launch the Pepperdine Volunteer Center, a center where students, staff, and faculty members live out the University mission by engaging in service opportunities and building lasting partnerships within the community. In her role as founding director, Jackson developed the managing board and launched the earliest campus-wide volunteer programs.
Harnessing her background in marriage and family therapy and passion for strengthening families, Jackson collaborated with Dennis Lowe, professor at the Graduate School of Education and Psychology, to establish the Center for the Family, later named for Pat and Shirley Boone, and serve as its executive director. Jackson played a fundamental part in program development, fundraising, and seminar instruction until 2004, when she assumed a key development role for the University as vice chancellor.
Fueled by her enthusiasm for developing women leaders, Jackson, in partnership with Pepperdine's human resources department and Center for Women in Leadership, launched the Women in Leadership Institute at Pepperdine, a development program that nurtures the career and spiritual development of young women leaders at the University through mentorship and fellowship.
"I am truly thrilled to be offered this appointment by President-elect Gash," said Jackson. "After many years of investment in this beloved community, I can't think of anything more meaningful than joining the leadership team as we launch expectantly the next chapter of Pepperdine."
Jackson holds a bachelor's degree in English from Pepperdine's Seaver College and was the recipient of the college's 2018 Distinguished Alumnus Award. She also holds a master's degree in theology with an emphasis in marriage and family counseling from Fuller Theological Seminary. She and her husband, Sam ('75, EdD '84), are the parents of Jessica ('09), Joseph, and Madeline ('13).