School of Law Celebrates Third Annual Parris Awards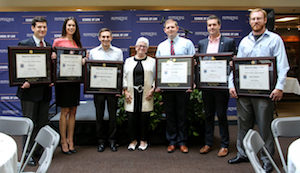 Pepperdine School of Law hosted the third annual Parris Awards at Lon V. Smith Atrium at the Malibu campus on Thursday, April 6.
Below is the list of this year's winners:
Evan T. Carthen Awards for Inspirational Leadership
Ava Jahanvash
Sarah George
Ginsey Varghese
Excellence in Professionalism
Excellence in Peacemaking
Excellence in Service
Excellence in Courage
Excellence in Leadership
Excellence in Character
Alice Anderson
Cameron McCollum
Marcel Sincich
The Pepperdine Award
The Parris Awards are celebrated each spring to honor those who exhibit the highest order of the pillars of professionalism. Nominations are based on actual narratives of stories that capture each candidate's attributes, and faculty and administrators vote to determine the recipients.
For additional information about the Parris Awards, visit the School of Law website.