School of Public Policy to Host August 2021 Episode of "The Path Back to School" Webinar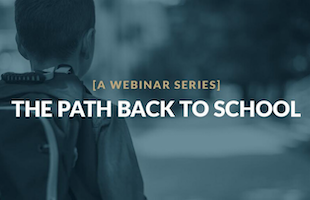 The Pepperdine School of Public Policy will host the seventh episode of "The Path Back to School" webinar series on Monday, August 30, at 9 AM PT. Each episode of the virtual series brings together a different set of educators and thought leaders to provide diverse perspectives and ideas on the issues and opportunities facing the K–12 community during the time of the coronavirus pandemic.
Hanna Skandera (MPP '00), visiting professor of education policy and impact at the School of Public Policy, will moderate the session. Panelists will examine the impact of the pandemic on America's schools and review key learnings from the last academic year. The event will include a brief Q&A session that explores issues and opportunities for a safe reopening of schools in the fall 2021 semester.
The panel will feature:
Barbara Jenkins, Superintendent, Orange County Public Schools
Wayne Lewis, President, Houghton College
Nat Malkus, Senior Fellow/Deputy Director of Education Policy, American Enterprise Institute
Andy Rotherham, Cofounder and Partner, Bellwether Education
For additional information about the series, and to register to attend, visit the School of Public Policy website.