School of Public Policy to Host Spring 2016 Commencement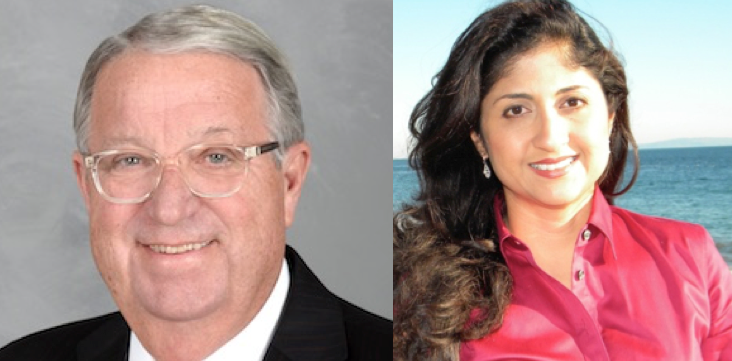 The Pepperdine University School of Public Policy spring 2016 commencement ceremony will take place at Alumni Park on the Malibu campus on Friday, April 22, at 10:30 AM. The event will bestow an honorary Doctor of Laws degree upon Donald R. Knabe and honor Evelyn G. Aleman (MPP '00) as this year's Distinguished Alumna.
Knabe is Los Angeles County supervisor of the Fourth District who was first elected to the Los Angeles County Board of Supervisors in 1996 and reelected in 2000, 2004, 2008, and 2012. With a political career dedicated to protecting the innocent and vulnerable children that reside in Los Angeles County, Knabe established the Safe Surrender program, which allows people to surrender a baby within 72 hours of birth, as long as the baby is free from any signs of abuse. Knabe is also known as a national leader on the issue of child sex trafficking.
In 2012 he launched a national campaign to raise awareness about young girls in Southern California being subjected to exploitation for monetary gain. The following year he testified on the issue of child sex trafficking at a hearing before the House Committee on Foreign Affairs in Washington, D.C. He also advocated for stricter penalties for sex traffickers at the National Press Club with Texas congressman Ted Poe.
Knabe is a director for the Metropolitan Transportation Authority (MTA). He is also a member of the Southern California Regional Rail Authority (Metrolink), where he serves on the Executive Management and Audit Committee.
Aleman works as a voice for nonprofits, schools, foundations, and others, to raise consciousness, build coalitions, and empower communities. She is the founder and president of Media Image Public Relations, a PR firm specializing in the issues unique to a public policy perspective. Among her clients are LAUSD, the United Way, First 5 Santa Barbara, Tree People, the City and County of Los Angeles, and many more.
Her advocacy on behalf of educational reform is seen and heard constantly in television and radio interviews and in publications such as the Los Angeles Times, the Daily News, the Sacramento Bee, and La Opinion. Her mission has been to inform communities, parents, and students to be able to make empowered decisions for their futures. Some of the issues on which she has focused are after-school programs, summer learning, better quality college-prep courses in low-income communities, public school choice, and high-quality instruction for all children.
For more information, visit the School of Public Policy Graduation website.