School of Public Policy to Host Third Episode of The Path Back to School Webinar Series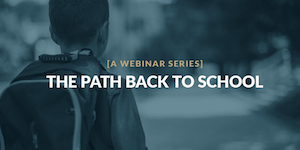 As part of The Path Back to School webinar series, the Pepperdine School of Public Policy will host episode three: "Operations and Health Registration," on Thursday, August 6, at 10 AM PDT. Each episode of the series brings together a different set of educators and thought leaders to provide diverse perspectives and ideas on the issues and opportunities facing the K–12 community during the time of the coronavirus pandemic.
Cohosted by American Enterprise Institute, Bellwether Education Partners, and the Line, the third episode of the series will explore the impact, issues, and opportunities in the realm of operations and health. As K–12 districts approach the fall 2020 semester, innovation, adaptability, and flexibility will be critical elements of the operations and health-planning process. From health screening and seating plans to scheduling models and remote case management, K–12 education will be markedly different as schools consider reopening in the wake of the COVID-19 pandemic.
The panel will feature:
Kevin Haugh, Chief Product Officer, Frontline Education
Duncan Klussmann, Clinical Assistant Professor, University of Houston, Former Superintendent of Schools, Spring Branch Independent School District
Mike Miles, Former Superintendent, Dallas Independent School District
Katie Rouse, Senior Consultant, Bellwether Education Partners
Andrew J. Rotherham, cofounder and partner at Bellwether Education Partners, will moderate the session.
For additional information about the series, and to register to attend, visit the School of Public Policy website.