School of Public Policy Professor Luisa Blanco Raynal to Lead Davenport Discussion on Finances and Minorities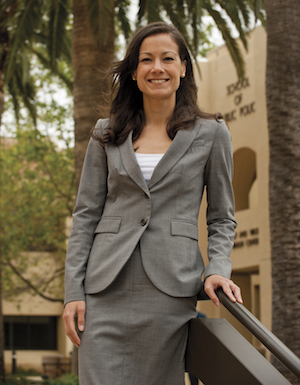 Economist and associate professor of public policy Luisa Blanco Raynal will discuss "Understanding the Racial/Ethnic Gap in Bank Account Ownership Among Older Adults" at the School of Public PolicyDavenport Discussion roundtable seminar at Drescher Graduate Campus in Malibu on Tuesday, November 1, at noon.
Blanco, in collaboration with University of Southern California assistant professor Emma Aguila and economist Marco Angrisani, utilizes data from the Health and Retirement Study (HRS) to investigate the economic, cultural, and psychological barriers against financial inclusion facing older minorities, particularly Latinos and African Americans.
This study is part of Blanco's pilot project, "Financial exclusion and the wellbeing of minority elders in the United States," which was funded by the National Institute of Health/National Institute of Aging through the Resource Centers for Minority Aging Research-Center for Health Improvement for Minority Elders (RCMAR-CHIME) at University of California, Los Angeles.
Blanco specializes in economic development and international economics, with an emphasis on the Latin American region. Her research focuses on issues related to economic development and policy-making in Latin American countries, such as institutions, democracy, political instability, crime, capital accumulation, capital flows, financial development, inequality, and natural resources.
For additional information about the event, visit the School of Public Policy website.