Seaver College Alumna Lynn Williams to Discuss Race, Sports, and Society in W. David Baird Distinguished Lecture Series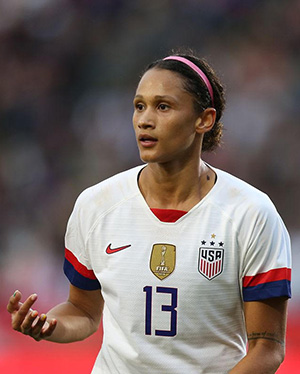 Pepperdine University's Seaver College of Letters, Arts, and Sciences is proud to host the return of the W. David Baird Distinguished Lecture Series on Wednesday, April 28, 2021, at 5 PM PDT. The lecture will feature Seaver College alumna and former Pepperdine soccer player Lynn Williams ('15) for a virtual panel titled "Discussions on Race, Sports, & Society." The event marks the return of the Distinguished Lecture Series since the events were canceled in spring 2020 due to COVID-19 conditions.
"I am excited to have alumna Lynn Williams speak to our Seaver community. Not only is she a rising star on the US Soccer Women's National Team (USWNT), she is also using her platform to address racial injustice in the world of women's soccer and across society. I hope her insights spark important conversations across our community," shares Seaver College Dean Michael Feltner.
Since graduating in 2015, Williams has experienced great success on and off the field. She is a member of the USWNT and has won three National Women's Soccer League (NWSL) Championships and Shields. Beyond playing an instrumental part in the USWNT qualifying for the Olympics, Williams is on pace to become the league's all-time leader in goals and assists.
Off the field, Williams is using her platform to challenge issues of racism and social injustice that exist within soccer and society as a whole. As an active member of the Black Women's Players Collective, she is speaking out to advance justice and equality for all people. She'll continue the conversation with the Seaver College community with a panel discussion led by students and faculty.
The W. David Baird Distinguished Lecture Series features top scholars, practicing academics, and thought leaders in diverse fields to broaden the Pepperdine educational experience. The series is made possible through the support of Melanie and Richard Flamminio, the Seaver College Board of Visitors, and the Seaver Parents Association.
To learn more and to register to attend, visit the Kicking It with Lynn Williams: Discussions on Race, Sports, & Society event page.