Seaver College Undergraduate Research Program Hosts Inaugural Biology Day at Price Schools
On Thursday, July 13, Pepperdine University hosted the inaugural Biology Day at the Frederick K. C. Price III Christian Schools, the site of Pepperdine's original Los Angeles campus. Eleven fellows from the Summer Undergraduate Research in Biology (SURB) program—led by Helen Holmlund, assistant professor of biology, and Courtney Davis, associate professor of mathematics, at Seaver College—introduced advanced scientific concepts to a group of 35 elementary and middle school students.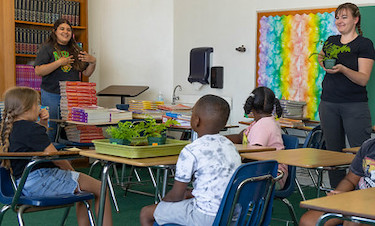 "We discovered that the learning went both ways," says Holmlund. "While our intention was to teach the children about different biological concepts, our college students learned from the Price elementary and middle school students throughout the day. We couldn't be more grateful that the Price administrators and teachers were willing to take the time to collaborate with us at Pepperdine."
Since 1986 Price Schools, a private, Christian K–12 school in South Los Angeles, has produced more than 10,000 graduates who have each received a holistic education centered around the spirit, soul, and body.
In 2021 J. Goosby Smith, Pepperdine's vice president for community belonging and chief diversity officer, met with Angela Evans, CEO of the Crenshaw Christian Church and daughter of the late apostle Frederick Price, the school's namesake and one of its founders, to discuss reconnecting Pepperdine with its historical roots at the Price Schools' campus. Since then, Smith and Evans have worked with Madeline Butler, Price Schools' principal, to develop meaningful partnership opportunities for both Price and Pepperdine.
Thus, when Holmlund and Davis considered hosting an educational outreach event for the sciences, Price Schools was first on the list given the two schools' strong historical connection and mission alignment. Ultimately, the two professors sought to create an opportunity that encouraged the young students' curiosity and love for learning.
"The foundation for this event was that science is something learnable," says Davis. "It's something you can do. You don't have to have degree after degree in order to understand it or see it for yourself. We wanted to make science more approachable and accessible; we wanted to create enthusiasm for learning; and we wanted to foster excitement for college."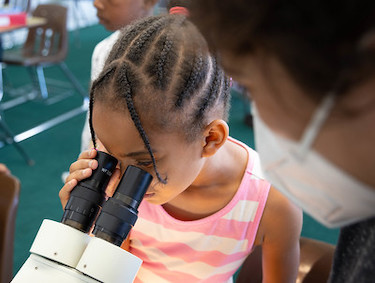 With these goals in mind, six Seaver College biology professors—including Davis and Holmlund, University provost Jay Brewster, Leah Stiemsma, Thomas Vandergon, and J. Antonia Gomez—challenged their research fellows to create five different activities for the Price students to venture through. Working in teams of two, the SURB team designed content specific to their individual studies.
SURB is an 11-week, research-intensive program that allows students to contribute to ongoing scholarly projects. Those admitted to the program live on the University campus, work closely with a faculty mentor, and present their findings at a research symposium at the end of the summer. This year's projects focus on breast cancer research, the development of fern gametophytes, crayfish infestations in the Santa Monica mountains, and the cellular characteristics of human lungs, among others.
In order to explain these complex projects, SURB students designed hands-on activity stations for the Price school students to experience—each with its own unique name.
DNA Races, the first station of the day, invited participants to use pipettes to place DNA samples in different wells. At the Fern-tastic station, Price students used microscopes, an infrared radiometer, and temperature and humidity gauges to evaluate the different characteristics of ferns. During Coding Crayfish, the children learned about coding and helped develop a simple, web-based game to illustrate how infestations of crayfish harm surrounding plants and wildlife. At Lungs Alive, students observed the visible differences between healthy and cancerous cells with a microscope. And finally, the Cancer Dance station demonstrated how cancer cells move within the body and allowed the students to create a dance of their own.
"It was very exciting to witness the students' curiosity, hear their questions, and watch them participate in hands-on lab techniques," says Rachel Yutong, a rising Seaver College senior who helped lead the DNA Races station. "I saw so much potential and interest in them, and I can't wait to see where they will go in the future."
Each of the stations met for 15 minutes and challenged the SURB fellows to discuss their specific research focus in an efficient and comprehensive manner. Though the goal of the day was to inspire scientific interests in the Price students, this event also benefited the collegiate research fellows.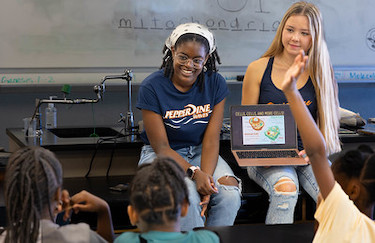 "The goal of this exercise for our SURB students was to gain experience in science communication and presenting their research to many different audiences," says Davis. "Science cannot be siloed. If you're able to communicate it, it is more impactful. This event gave our students experience, as they are rising toward graduate- and industry-level presentations, to easily communicate their findings."
"For some of our students this was their first time communicating science to elementary- and middle-school-aged kids," adds Holmlund. "They were hesitant at first, but they ultimately embraced the opportunity. Even in the two-hour time period, I could see them growing as science communicators, which was very gratifying."
Following the mutually beneficial nature of Biology Day, Holmlund, Davis, and the Price Schools are considering the possibility of an annual event held in partnership with the two institutions. While plans for these future endeavors are still being discussed, enthusiasm for their potential has only grown.

"This is something special," says Davis. "We are very excited to identify more opportunities to expand scholarly opportunities for our students while also seeking other ways to continue our outreach."