Seaver College Celebrates Commitment to Belonging at 13th Annual Loqui Ceremony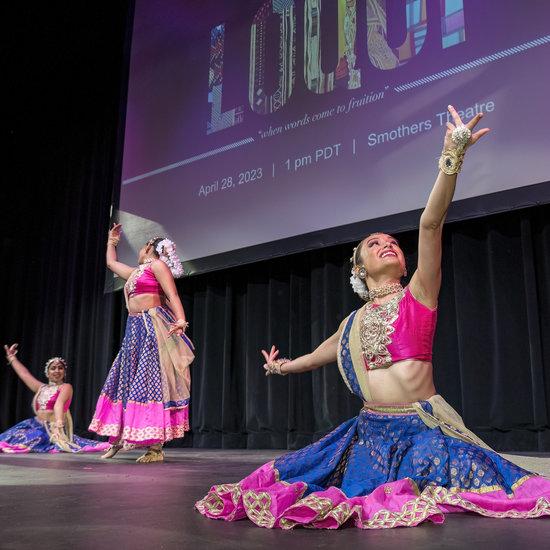 Hosted by Intercultural Affairs, the 13th annual Loqui ceremony was held Friday, April 28, at 1 PM in Smothers Theatre. Conducted in the days leading up to commencement, Loqui is a yearly celebration of the distinct cultures that shape the Pepperdine experience and the students, faculty, and staff who foster and deepen the University's collective sense of belonging. Loqui is also an opportunity for the University to showcase the cultural uniquenesses of Pepperdine students through the performance of music, dance, or spoken word throughout the ceremony. The event's keynote speaker was Joi Carr (MA '02, MLS '22, MDR '22), professor of English and film and Blanche E. Seaver professor of humanities and teacher education at Seaver College, who was integral in the creation and implementation of the inaugural Loqui event in 2011.
"Loqui serves as an important tradition at Seaver College and collectively brings the Pepperdine community together to acknowledge and celebrate the University's commitment to diversity," says Terra Hall, associate dean of student affairs for diversity and belonging at Pepperdine. "Through various forms of expression, we are reminded of our uniqueness and how we each contribute to the Pepperdine experience while embodying and reflecting God's love."
This year's student honorees included Seaver College seniors Sahej Bhasin and Naya Simone Edwards, who both received the Bowers, Davis, and Todd Awards for Leadership in Diversity and Inclusive Excellence.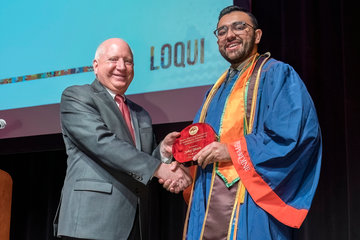 As a first-generation college student, Bhasin has devoted much of his college experience to uplifting underrepresented communities and working with diverse groups of individuals. Since becoming a student, he has held multiple leadership positions in the professional business fraternity Delta Sigma Pi, Pepperdine Graphic Media, the Pepperdine Ambassadors Council, and the Indian Student Association. Bhasin has also held roles in Pepperdine's Office of Advancement and Intercultural Affairs and has used the tools he developed at Pepperdine to connect with individuals with diverse backgrounds to help further their leadership skills so they may have a profound impact on the world.
"Receiving the Bowers, Davis, and Todd Award feels like I'm leaving my last mark on Pepperdine. After countless hours of hard work and dedication, to be honored at the Loqui ceremony signifies my contributions made an impact," shares Bhasin. "I thank Pepperdine for surrounding me and allowing me to work with such talented people. Truthfully, I wouldn't have been able to accomplish this without the people that pushed me to try new things and expand upon my skill set."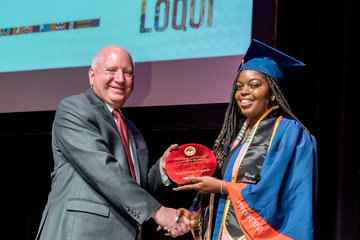 Edwards has spent her undergraduate career advocating for underrepresented groups and serving the community. She currently serves as president of the Black Student Association, financial secretary and historian for the Tau Lambda chapter of Alpha Kappa Alpha sorority, Inc., and as a resident advisor for first-year students. Edwards previously worked as a student intern for the Intercultural Affairs office and was responsible for launching many culturally significant social media campaigns such as "Women of Color in STEM" and "What's Hair Got to Do With It?" These platforms allowed her to advocate for different cultural groups, educate the Pepperdine community about social injustices, and promote small businesses.
"I will forever remember my time at Pepperdine, but receiving this award is truly a highlight," says Edwards. "Being recognized for my leadership helps to cement that my work and efforts were seen and appreciated. Regardless of the award, I am proud of what I was able to accomplish and grateful my efforts will have a lasting impact on the community."
Staff and faculty honorees at this year's ceremony included La Shonda Coleman, associate vice president for Pepperdine's student affairs and University Title IX coordinator, who received the Distinction in Diversity and Inclusive Excellence Staff Award. Steve Rouse, professor of psychology at Seaver College, who has served nearly 25 years as a faculty member at Pepperdine, received the Distinction in Diversity and Inclusive Excellence Faculty Award.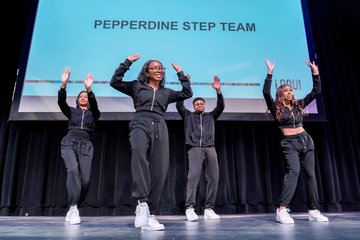 In addition to honoring the ​​student, faculty, and staff awardees, the ceremony featured senior student speaker, Katai Mutale, who shared reflections from her Pepperdine experience, along with performances from student vocalists, the Pepperdine Step Team, and Joya Kazi, a resident dance company known for elevating Indian classical and Bollywood styles into the mainstream.
To learn more about Loqui: A Celebration of Diversity and Inclusive Excellence, visit the Loqui website.