Seaver College Emphasizes Creativity, Innovation with New Entrepreneurship Minors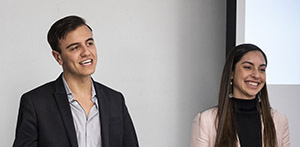 Beginning in fall 2021, Seaver College of Pepperdine University will launch the two new academic minors in the Business Administration Division. The two minors, entrepreneurship and social entrepreneurship, were the result of years of meticulous course design led by Dean Baim, divisional dean of the Business Administration Division, and Ben Postlethwaite, associate professor of organizational behavior and management.
"There is a common misconception that entrepreneurship is an inherent talent people either have or don't have, but with these minors, we are hoping to shift that mindsight and break down the step-by-step process of taking a business or venture from idea to fruition," shares Baim.
The minors hold similarities with their core classes covering finance, market research, organization development, and more. However, once students complete the core classes, the two minors split with social entrepreneurship putting closer emphasis on non-profit management coursework and traditional entrepreneurship focusing on business administration coursework.
Additionally, the minors culminate in capstone-like courses for each track. Entrepreneurship minors will focus on entrepreneurial policy, strategy, and ethics through case-study research and careful analysis while social entrepreneurship minors will pursue an entrepreneurial service leadership project
Both minors leave tremendous room for customization and options for internships to help students gain hands-on, relevant experience based on their interests. In the course design process, Baim and Postlethwaite took great care to ensure the interdisciplinary nature of both minors. The minors are open to students from all eight of Seaver College's academic divisions allowing all areas of study to incorporate creative entrepreneurial skills into their academic pursuits.
While the minors are officially launched in fall 2021, Baim and Postlethwaite anticipate continued refinement, growth, and expansion of the minors and their offerings. One of the many additions Postlethwaite is exploring is a student pitch contest, which would allow students to gain valuable experience in high-stake pitches.
"I am eager to see where we can take the programs in the future," Postlethwaite shares. "The nature of the minors allows plenty of opportunities for customization and growth to meet the needs and interests of our students for years to come."