Seaver College Fine Arts Division to Present the Luciana and Daniel Forge Fall Musical Ragtime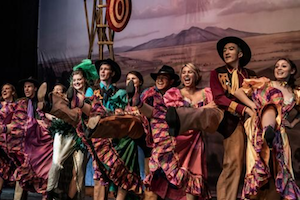 The Pepperdine University Fine Arts Division Theatre and Music Departments will present the musical Ragtime at Smothers Theatre at 7:30 PM on November 15–16 and November 21–22, with matinee performances on Sunday, November 17 and Saturday, November 23, at 2 PM. Gold, Platinum, and Diamond members of the Center for the Arts Guild are invited to a special backstage tour before the November 21 performance.
Set in the volatile melting pot of turn-of-the-century New York, three individuals—a stifled upper-class wife, a determined Jewish immigrant, and a daring young Harlem musician—are united by their courage, compassion, and belief in the promise of the future. Together, they confront history's timeless contradictions of wealth and poverty, freedom and prejudice, hope and despair, and what it means to live in America.
Kelly Todd, adjunct professor of theatre dance, will direct the all-student cast, which will features Noah Archibald, Syd DeMaria, Leyla Dillig, Lauren Drake, Julian Duncan, Josh Fredenburg, Jack Gerding, Joseph Hebel, Brit Hope, Brooke Moltrum, Adrian Patiño, George Preston, and Nathaniel Thompson.
"Ragtime is an epic musical drama rooted in historical fiction. Set in the early 1900s, it weaves together the stories of three parents and their children facing racial discrimination, sexism, and the persecution of immigrants—three issues still highly relevant today. It is a beautiful story of love, identity and forgiveness that asks us to examine our own moral compass. The music is stunning and this is the largest cast we have ever had on a Pepperdine stage. We are very excited to bring Ragtime to our community," Todd said.
This production involves racial tension in the early 20th century and will contain racial epithets and profanity.
Ticket prices range between $10 and $20 and are required for admission. For additional information about the fall musical, visit the Center for the Arts website.