Seaver College Fine Arts Division to Present Production of Well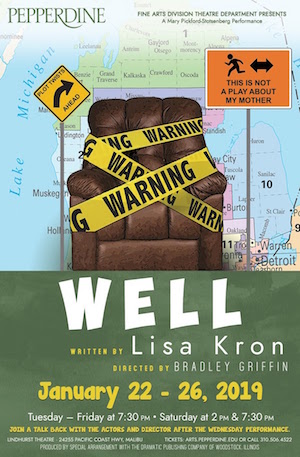 Pepperdine University's Fine Arts Division will present Well at Lindhurst Theatre in Malibu on Tuesday, January 22 through Friday, January 25, at 7:30 PM, and on Saturday, January 26, at 2 PM and 7:30 PM.
"This play is not about my mother and me," explains playwright Lisa Kron in this hilarious, moving story that combines the genres of solo performance and experimental theatre with the timeless story of mothers and daughters. Written by the author of the Tony-winning musical Fun Home, Well marked Kron's Broadway debut in 2006 both as a playwright and a performer.
Bradley Griffin, Fine Arts divisional dean and professor of theatre, will direct the cast, which will feature Seaver College students Leyla Dillig, Dylan Forehand, Christine Galyean, Isabel Klein, and George Preston. Cathy Thomas-Grant, Fine Arts divisional dean and professor of theatre, will also guest star in the production.
"The true beauty of Well is the simplicity of its complexity, or maybe it's the complexity of its simplicity. With humor and heart, Lisa Kron has created a powerful story that weaves together narratives of racial integration, health and illness, and artifice and reality," said Griffin. "By writing herself into the story, she invites the audience to look at these topics through her eyes, and then she forces us to ask if seeing really is believing. Well is the rare play that has the capacity to inspire even as it entertains."
This production contains mature themes and is recommended for ages 15 and older. No late seating will be allowed. A talk back session with the actors and director will be held after the Wednesday performance.
Ticket prices range between $10 and $15, and are required for attendance. For additional information about the performances, visit the Center for the Arts website.