Seaver College Fine Arts Division Presents Student Concert Series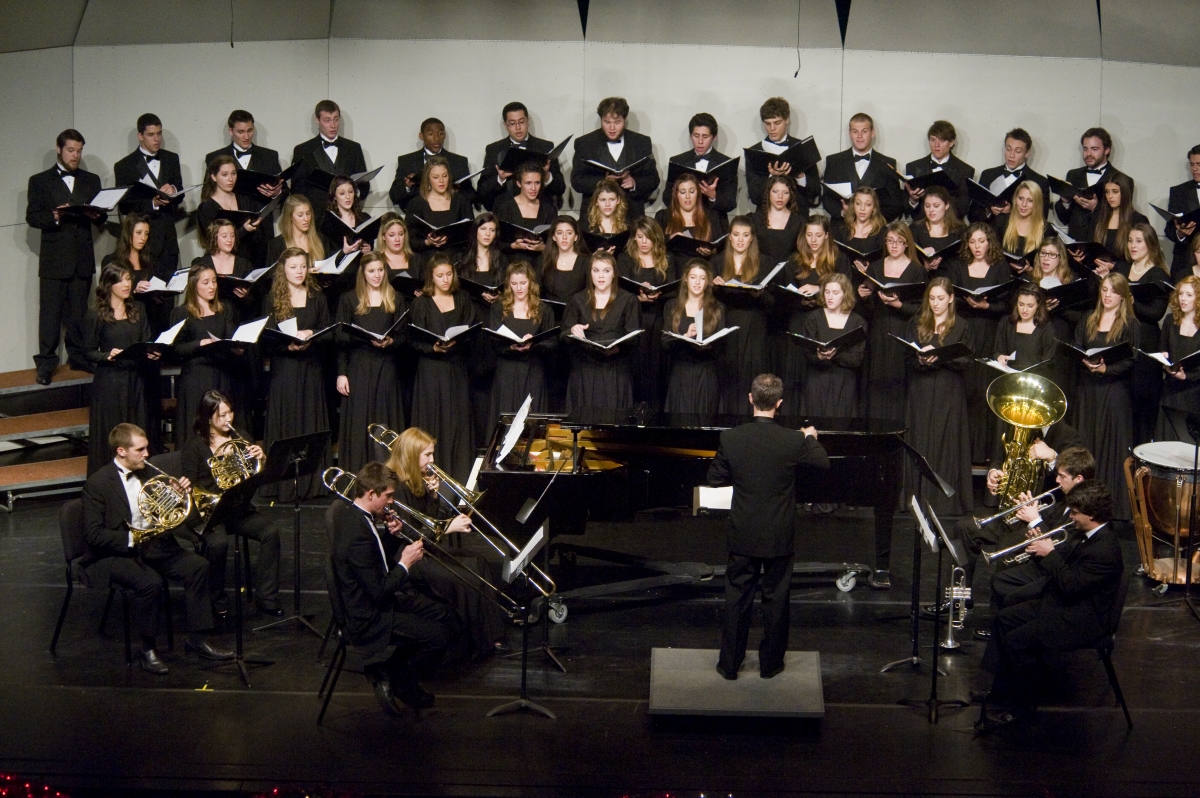 The Seaver College Fine Arts Division will mark the ending of the spring 2016 semester with a series of musical performances by the Pepperdine Jazz Ensemble, the Pepperdine Wind Ensemble, and the Pepperdine Chamber Choir on the Malibu campus.
The Pepperdine Jazz Ensemble will perform at Lindhurst Theatre on Monday, April 18, at 7:30 PM. Under the direction of Brian Scanlon, this concert of 16 students will feature several music styles, such as swing, bebop, rock, samba and Latin.
Song selections will include Oliver Nelson's jazz standard "Stolen Moments," Gordon Goowdin's "Hit The Bricks," and Nat King Cole's "Orange Colored Sky." Student vocalist Shamiran Prater will sing a tribute to famed singer-songwriter Natalie Cole.
The Pepperdine Wind Ensemble will perform a free concert at Smothers Theatre on Thursday, April 21, at 7:30 PM. This performance will be directed by conductor Tony Cason, and will feature wind, band, and contemporary music.
Songs will include the 1889 classic march "The Thunderer," "A Celebration Overture," written by accomplished Hollywood movie score composer Bruce Broughton, and "Molly on the Shore," a challenging piece that features the ensemble's clarinet section. Another selection, "The January February March" will be conducted by vocal music major and graduating senior Marcus Klotz.
The Pepperdine Chamber Choir will present its official pre-tour concert at Stauffer Chapel in Malibu on Friday, April 22, at 7:30 PM. This dynamic group of 31 highly versatile student vocalists will perform a mostly a cappella concert of choral music from a variety of styles and time periods, and will sing songs that sometimes divide into as many as 12 parts that create rich sonorities and brilliant displays of vocal acrobatics.
One special feature is Eric Whitacre's "Leonardo Dreams of his Flying Machine." Considered to be one of the most challenging pieces of choral music, "Leonardo Dreams" refers to one of da Vinci's flying machine inventions. Using actual quotes from Leonardo da Vinci's notes and papers, Whitacre takes listeners through the mind of da Vinci as he conceives this contraption. At the end of the piece, the audience is led to the moment in the dream where da Vinci leaps and flies.
Another piece to be presented during the program is Ēriks Ešenvalds' "Only in Sleep," a setting of the Sara Teasdale poem by the same name. The song recalls the moments in sleep when faces of friends and loved ones from many years ago appear as recent encounters.
Ryan Board, Pepperdine director of choral activities, will guide the students in this performance. Seaver College seniors Marcus Klotz and Leah Owen will be featured as conductors at the concert as well. The group will spend two weeks this summer on a concert tour in Italy and the Czech Republic.
For additional information about these upcoming concerts, visit the Center for the Arts website.