Seaver College Seniors to Celebrate with President and First Lady Gash at Rock the Brock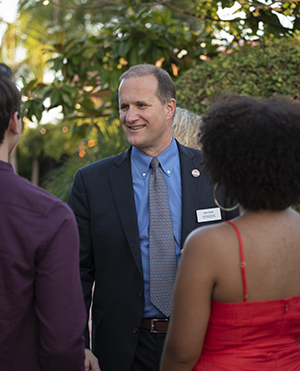 On Wednesday, September 1, 2021, at 6:30 PM Seaver College seniors will celebrate the new academic year with lively community fellowship alongside Pepperdine president Jim Gash (JD '93) and first lady Joline Gash ('92) for the decade-long tradition of Rock the Brock. The event, first created by former president Andrew K. Benton, is a follow-up to the students' first-year reception in the Brock House backyard and serves as a closing celebration as the students begin their senior year.
"The night evidences the transformational experiences students underwent thus far," shares Matt Ebeling, executive director of Alumni Relations for Seaver College and master of ceremonies for the Rock the Brock events. "They've developed this relationship equity and camaraderie with their class since their first-year reception with the president, and witnessing that energy shift at Rock the Brock is always so special."
This year's celebration marks the event's return to the Brock House after 2019's event was held on Tiner Court and the COVID-19 pandemic led to remote learning and the cancelation of the 2020 event. In addition to sharing dinner, music, and fellowship, several of the night's traditions will continue this year including a chance to win a Waves of Relief presidential award of up to $5,000.
Despite the mixed emotions of beginning their final year as undergraduate students and anticipating their Class of 2022 commencement, Ebeling hopes that this event encourages students to revel in their achievements and know that their Pepperdine experience does not end here but continues as they become alumni.
To learn more or for students to register to attend, visit the Rock the Brock event page.