Seaver College Student Government Association Forms Diversity, Equity, and Inclusion Council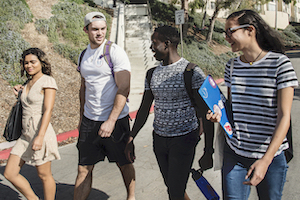 During the 2020–2021 academic year, undergraduates at Seaver College have been actively involved in contributing to a community of belonging at the University through the Diversity, Equity, and Inclusion Council (DEIC) initiated by the Student Government Association (SGA).
By being keenly attuned to various ethnic and racial backgrounds and cultures, the newly formed DEIC aims to ensure that all students are welcomed, represented, and supported from their first day to their last day at Pepperdine. The council also serves as a platform for marginalized students to voice their concerns directly to University administration, facilitates dialogue among the student body around social justice issues, and seeks to continually identify and initiate strategies to advance diversity, equity, and inclusion at Pepperdine.
"I hope to join the students who are marginalized and underrepresented on campus in advocating for meaningful change at and beyond our college. Students appreciate the need to not only listen, but also to make progress towards a community that embraces diversity, equity, and inclusion," says current SGA president Chase Johnson. "But we also need the education of culture, identity, and intersectionality to act when we encounter injustice. DEIC was created to serve students with as many opportunities as possible to be effectors of change and educate others while doing so."
According to Johnson, DEIC directors are trained along with all SGA members to combine SGA resources, such as funding, programming, and advocacy, with a robust knowledge of diversity, equity, and inclusion in order to provide students with a clear avenue to effect change on campus. He has recognized this year that many Greek life and student clubs have been hosting conversations and training sessions around diversity, equity, and inclusion. Many of his professors are also encouraging social justice conversations, and administrators are listening in open forums to students who want to see Pepperdine advance in these areas.
Johnson developed the proposal for the development of the DEIC last year while serving on the executive board and felt compelled to create a new director position focusing on diversity and inclusion. Upon running for student body president, Johnson prioritized expanding from a single director model to creating an entire council, resulting in the launch of DEIC. According to the communication and political science major, during the fall 2020 semester DEIC responded to topics such as racial injustice and the ethnic cleansing of Armenians in Nagorno-Karabakh, an Asian region that borders both the Middle East and Eastern Europe.
Inspired by recent social and political events that divided the country in detrimental ways, DEIC student leaders explain that they felt called to action to support their fellow students who felt marginalized during a time of social unrest. "In light of the recent world and political events that have yielded division among people in ways our generation has never seen, it's really been in my heart to serve my community," shared Sierra Bell, a current senior and co-director of DEIC, who was appointed to this leadership position by the SGA executive board.
The psychology major and French minor explained that, "The members of our council do all we can to get to know different student groups on campus, to learn about their experiences, and to come up with ways that we can improve, combine, and shed light on those experiences so that everybody at Seaver College benefits."
Describing the council as "a blessing," Johnson said that it has collaborated extensively with Pepperdine's Armenian Student Association (ASA) to offer a framework for the University to address the recent hardships being experienced by Armenian students using SGA's established connections and procedures. As a result of this collaboration, DEIC passed an SGA resolution for the incorporation of an Armenian Heritage Week during the school year. Additionally, Pepperdine president Jim Gash (JD '93) and Connie Horton ('82), vice president for student affairs, attended a forum hosted by the ASA in November 2020 that addressed the conflict in Nagorno-Karabakh.
"Because of the DEIC and the unbelievable efforts of the DEIC directors, SGA has been able to multitask advocacy unlike ever before," Johnson said.