Seaver College Students Lead Decades-Long Research on Streams in Santa Monica Mountains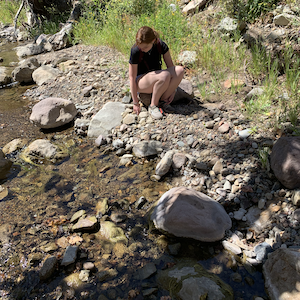 For more than 20 years, Pepperdine University has partnered with the United States Geological Survey (USGS), the National Park Service, the Resource Conservation District of Santa Monica Mountains, and UCLA to monitor the health and environmental conditions of streams located within the Santa Monica Mountains, develop a robust biodiversity database on local streams, and gather data on changes that have occurred over the last two decades. During their annual meeting held this year on March 1, 2021, members from the participating groups, including Seaver College biology students who manage the research on behalf of Pepperdine, reflected on new data, explored new projects, and discussed data to be collected during spring and summer 2021.
Referencing the Woolsey Fire that destroyed parts of Los Angeles and Ventura Counties in November 2018, Seaver College junior Elise DeArment, who has been involved in the partnership for three years, explains that, "As wildfires become increasingly common in Southern California, it's important to monitor how they affect native species and streams. Pepperdine plays a crucial role with its proximity to burn sites and our ability to survey these areas."
DeArment shares that native populations in streams that are more accessible to the public and therefore subject to excessive pollution and litter are at higher risk for health issues, whereas these species tend to thrive in places where conservation efforts are in place and streams are generally clean. Students also survey streams with an invasive species of crayfish that they monitor to understand how their presence impacts native species. Lee Kats, professor of biology, vice provost, and the Frank R. Seaver Chair of Natural Science at Seaver College who serves as the leading faculty on this partnership, teaches a course that conducts experiments to see how this species of crayfish behaves and reacts in local streams in order to understand the extent of their impact.
Stream surveillance has remained a priority even amidst the coronavirus pandemic, though adjustments were to ensure proper health and safety guidelines were maintained during the process. In summer 2020, the students discovered a diseased population of amphibians in the streams and worked with epidemiologists at the USGS National Wildlife Health Center to determine the cause.
"We have yet to identify what the exact issue is," DeArment says, "but the discovery is a good reminder that the work we're doing is relevant and important to keeping our streams pristine."