Seaver Student Named Top Latina Female Scholar of the Year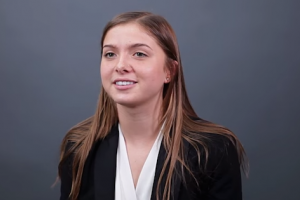 Pepperdine Seaver College junior Natalie Aguirre was recently named Female Scholar of the Year by the Hispanic Scholarship Fund (HSF). She was chosen for outstanding academic performance and exceptional leadership.
The Hispanic Scholarship Fund empowers Latino families with knowledge and resources to successfully complete a higher education, while providing scholarships and support services to Hispanic American students. Aguirre, whose parents are Cuban immigrants who now live in Miami, was nominated for the award by an HSF representative and was chosen over four other finalists. As the female scholar of the year, Aguirre, 20, will serve as an HSF ambassador, representing the organization at events nationwide.
"When I think of Natalie's prodigious intellectual gifts, her kindness and caring, her determination and ambition, and her selfless devotion to serving the needs of others, I see a role model for all aspiring HSF scholars, our community, and our nation," said Fidel A. Vargas, president and CEO of the Hispanic Scholarship Fund. "We could not be more proud that Natalie is one of ours, a leader among leaders."
Aguirre, who is a biology major, will use the HSF scholarship to pay for graduate school. The Florida native, fluent in Spanish, plans to pursue a PhD in biology research. She is currently part of a Pepperdine research team, under the direction of professor Thomas Vandergon, studying the growth of chaparral in certain areas.
Aguirre says that Pepperdine has expanded her world.
"Being at Pepperdine has taken me out of the Miami bubble, academically and personally, through the people I have met, and the opportunities I have had, and I very much appreciate that," Aguirre said.
One of Aguirre's accomplishments that impressed HSF was her work in the Dominican Republic. For the past five years, Aguirre has served as a board member and volunteer for Blue Missions, a non-profit established by a close friend. Each summer, Aguirre, has traveled to the Dominican Republic to spend a month leading high school volunteers in building aqueducts to provide potable water to underprivileged island residents. This summer, Aguirre is coordinating 200 volunteers from throughout the United States who will participate in the project.
"Clean water is something that everyone should have access to," Aguirre said. "When the water arrives and you see the smiles on everyone's faces because they know the water will be there for the rest of their lives, it's a good driving force for us to continue this work."
Aguirre describes her work with Blue Missions in a recent interview conducted by HSF.