Seventh Annual Loqui Celebration to Honor Seaver Seniors Committed to Promoting Diversity and Inclusion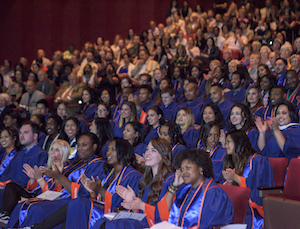 The Intercultural Affairs office at Seaver College will host Loqui: A Celebration of Diversity and Inclusive Excellence at Smothers Theatre in Malibu on Friday, April 28, at 1 PM.
The annual event, held one day before the Seaver College commencement ceremony, honors the soon-to-be graduates as well as distinct cultures that shape the Pepperdine experience and deepen the community's collective sense of belonging.
"Loqui brings us together in a spirit of unity through diversity. Therefore, it is our prayer that through this sacred time of reflection, celebration, and acknowledgement, faculty, staff, students, and their families experience not fellowship but kinship. In doing so, Pepperdine embodies diversity and inclusion in its most authentic form," said Kari E. Bolen, director of Intercultural Affairs.
This year's celebration will feature the first-ever non-Seaver College faculty speaker, Thema Bryant-Davis (MDiv '16), associate professor of psychology at the Graduate School of Education and Psychology. Pepperdine University President Andrew K. Benton will deliver the welcoming remarks, and the closing tribute will include a performance by student-led dance and choreography company, Dance in Flight.
Additionally, the Bowers, Davis, and Todd Award for Leadership in Diversity and Inclusive Excellence will be presented to two graduating seniors who have demonstrated an active commitment to advancing institutional diversity and inclusive excellence as part of their spiritual journey.
For more information about Loqui, visit the Seaver College website.