Sixth Annual Waves of Appreciation Gives Back to Active-Duty Military Traveling Home for the Holidays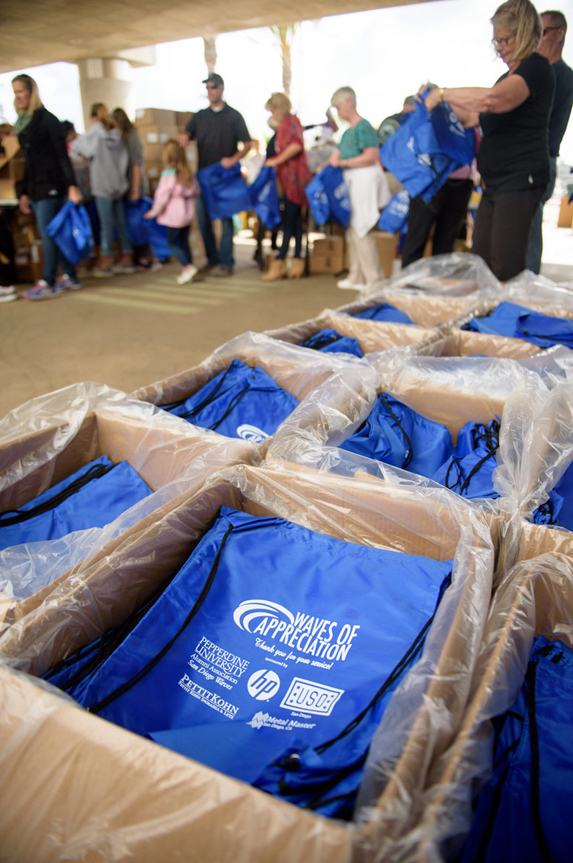 For the sixth consecutive year, the San Diego Waves alumni chapter joined forces with USO San Diego, fellow Pepperdine University alumni , San Diego residents, local businesses, and clubs to assemble and hand out 4,000 bags of treats as a thank you to active-duty military members traveling through San Diego International Airport (also known as Lindbergh Field) this holiday season. Over 3,000 service members travel home for the holidays through the San Diego International Airport, some the last trip home before deploying.
The effort, called Waves of Appreciation, provides service members with snacks while traveling for the holidays, as young military personnel often do not have extra money for food during their journeys home. The bags, which took about five hours to fill, contain a variety of treats that appeal to young service members, such as candy bars, cookies, popcorn, and potato chips, as well as thank-you notes from local schoolchildren.
Bags were distributed on Friday, December 16, and continued through Wednesday, December 21, from 6 AM to 6 PM every day, until all the bags were handed out. This year's distribution process began earlier than previous years, as volunteers became more familiar with military holiday schedules.
"We found that a good portion of our service members get to leave the weekend before Christmas, so we started sooner to reach as many of them as we could. It gets much slower the closer you get to Christmas," says Lauren Bullock, cochair and founding member of Waves of Appreciation.
Bullock, who has been deeply invested in this project since its inception, is particularly thankful for the tangible way she has been able to demonstrate her appreciation for active-duty military members, and for the genuine enthusiasm she witnesses from other participants.
"I love seeing the volunteers from San Diego companies come out and give us a hand," she enthuses. When they come out, they have such energy and are so excited to be there to thank the service members. I love their spirit."
Pepperdine parent Reed Reichert, a longtime supporter of the University's alumni events in both Oregon and California, was present at the meeting that established the Waves of Appreciation concept several years ago. He recalled hearing from a military mom who wished she could walk into her kitchen and see her son back at home, just in time for breakfast.
Reichert was moved by the mother's story and proposed the possibility of donating food to military service members on their way home for Thanksgiving and Christmas.
"We had talked about the young Marines that come to the airport with $10 in their pockets and get on the airplanes where there is either no food or they have to pay exorbitant prices for it, or they get hung up at airport terminals where the prices are obscene," Reichert explains.
The son of a Naval Officer who honeymooned in San Diego prior to serving in World War II, Reichert also expresses gratitude for the resulting partnership that has developed out of this project between Pepperdine University and USO San Diego.
"It's an officially endorsed USO program, which is a difficult designation to obtain by an outside group," he says. "It has gained national recognition not only for the USO as a program that they offer, but also for one of the organizations that has been involved with us since day one—Knights of Columbus. Every year they show up with 40 to 60 volunteers to hand out these bags, and they have been coming back every year since 2011."
For additional information about Waves of Appreciation, contact Pepperdine University Alumni Affairs at (310) 506-6190.