Student-Athletes Participate in Day of Community Outreach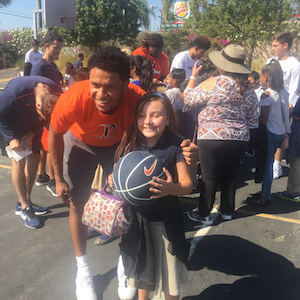 On October 18, Pepperdine University Athletics and the American Heart Association (AHA) teamed up to inspire more than 400 elementary school students to stay healthy and keep moving at Charnock Road Elementary School in Los Angeles. The event, Jump Rope For Heart, kicked off the second year of Pepperdine's partnership with the AHA.
The Jump Rope For Heart program teaches elementary school students about the importance of heart health, inspires them to help other children born with special hearts, and gives entire schools the opportunity to celebrate heart health with a jump roping event. In addition to the AHA's assembly designed to motivate students to eat more fruits and vegetables, exercise more often, and drink water over sugary beverages, the Pepperdine men's basketball team spoke to students about the collegiate athlete experience and the importance of making healthy choices.
"The event was a tremendous opportunity to positively impact the youth in our community," said Pepperdine basketball forward Nolan Taylor. "As athletes, it is imperative that we help the youth understand the importance of living a healthy lifestyle. The kids and the American Heart Association welcomed us with open arms, and it was so rewarding to put a smile on these children's faces while teaching and playing the sport we love with them."
Jump Rope for Heart at Charnock Road Elementary School is the first of three Jump Rope for Heart events at different elementary schools in the Greater Los Angeles area. Hosted by Pepperdine Athletics and the AHA, the partnership aims to grow the Pepperdine brand and to give Pepperdine student-athletes the opportunity to serve and inspire young students.
"By partnering with the American Heart Association on outreach to schools in the Conejo Valley, San Fernando Valley, and South Los Angeles, our student-athletes have the opportunity to serve elementary students and communities that they might not otherwise interact with," said Karina Herold, senior associate director of athletics at Pepperdine. "Service is at the heart of the student experience at Pepperdine, and the ability to deliver AHA's message of heart health through healthy eating and physical activity using our student-athletes as positive examples is a special combination."
The mission of the American Heart Association is to build healthier lives free from cardiovascular diseases and stroke. In addition to learning about heart health, Jump Rope For Heart students also learn about career pathways in science and medicine and explore how to help kids born with special hearts by raising donations for the American Heart Association. Donations raised will be used to fund lifesaving cardiovascular research for heart diseases and stroke, the leading causes of death in Los Angeles County.