Student Documentaries to Debut at ReelStories Film Festival X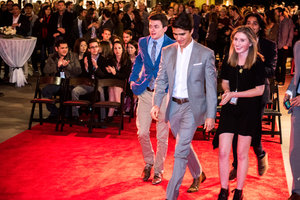 The Pepperdine University Student Programming Board will host the 10th annual ReelStories Film Festival (RSFF) at Mullin Town Square on the Malibu campus on Friday, February 1, from 6 to 10 PM. The event will showcase students' documentary filmmaking techniques through the art of storytelling.
This year's RSFF submissions will demonstrate growth and diversity, particularly in fostering unity among the University community, Malibu residents, and professional filmmakers working in the entertainment industry.
Short films selected for screening will be produced only by Pepperdine undergraduate students. Feature films will run between three and 12 minutes long, including end credits. All films must demonstrate Pepperdine values, and contain content that can promote healthy discussions.
This event is free to both the Pepperdine community and the general public.
For additional information about the event, visit the ReelStories Film Festival website.