Student Talent, Research and Accomplishment Celebrated
More than 100 Pepperdine Seaver College students showcased their work at the University's annual Undergraduate Research and Scholarly Achievement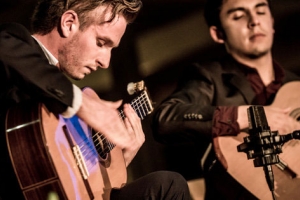 Symposium held on Friday, April 3.
The event was the culmination of student endeavor during the past school year and featured research and art exhibits, oral presentations, and musical performances. The varied subject matter reflected the many disciplines offered across the University including chemistry, physics, English literature, technology, political science, history, sociology, economics, nutrition, psychology, mathematics, communication, vocal and instrumental performance, foreign language, sports medicine, religion, philosophy, biology, and fine art.
"The depth and sophistication of the research and creative projects that our students are engaged in becomes more impressive each year," said Lee Kats, Vice Provost for Research and Strategic Initiatives, and Frank R. Seaver Chair in Natural Science.
The event began with a display of posters that detailed 28 research projects conducted by students. Themes included environmentally friendly plastics development; chaparral shrub response to drought conditions; transcription and study of letters to author Walt Whitman from his sister; and app development for online nutrition education. Students and their faculty mentors were on hand to explain their work and answer questions.
An art exhibit followed and included still life paintings and drawings; photography; and mixed media sculpture using such materials as watercolors, acrylics, oil, wood, copper, plaster and graphite.
Among the performances was a group of students from Pepperdine's 2015 Heidelberg Music program who sang excerpts from Mozart's opera, The Magic Flute, in German. A number of Christopher Parkening guitar students performed solo or in duets.
Students had the opportunity to orally present their projects in detail. Topics included water poverty in disadvantaged California communities; Asian American congressional representation; and the effect of aerobic exercise on blood flow.
"The symposium was a true highlight for me as each performance, piece of art and presentation that I observed reminded me that our students are some of the most impressive undergraduates anywhere in the country," Kats said. " I congratulate each and every student and faculty mentor."