Studio Art Majors Showcase Original Works at the Sandbar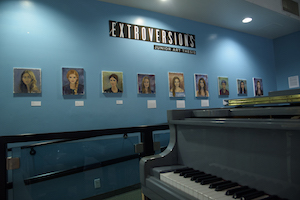 The Seaver College art department will showcase original works created by junior and senior studio art majors at the Sandbar Cafe on the Malibu campus through December 15.
Over the course of the fall semester, student artists worked with a medium of their choice, exploring painting, sculpture, video art, installation, and fibers. Through these mediums, they delved into concepts ranging from identity, anxiety, purpose, time, perception, reality, and meditation.
This year's theme, "Extroversions," will feature artwork from the following undergraduate students:
Wesley Cha

(junior)

McKenzie Cunningham (junior)
Iris Lee (junior)
Carissa Mosley (senior)
Angelica Ramos (junior)
Lauren Sammons
Julia Solazzo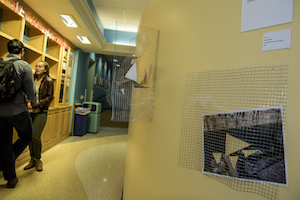 "We titled exhibition 'Extroversions' because the show is forcing us to leave our studios and present our work to the public, is a terrifying task," reveals Mosley, a Seaver College senior and video installation and performance artist, whose "Alien Lands" display combines a video installation and print photography to capture the unique essence of Los Angeles palm trees through prisms. "The installation I'm is a participative performance ceremony in which we will be ironically and unironically commiserating the end of palm trees in Los Angeles."
The Sandbar Cafe is open weekdays from 10 AM to 6 PM.